Lifecycle

Thread started by
RideALC
at 02.26.13 - 10:24 am

Midnight Ridazz participate in AIDS/LifeCycle - a fully supported, 7-day bike ride from San Francisco to Los Angeles to raise money and awareness in the fight against HIV/AIDS. Every year, this landmark ride through beautiful California delivers a life-changing experience for thousands of participants from all backgrounds and fitness levels united by a common desire to do something heroic. Whether you're considering your first ride or are a seasoned veteran, we want you with us on AIDS/LifeCycle 12. You belong here.
ALC is going to reward the team who registers the most riders between February 5th and the 19th with custom water bottles! Your ENTIRE TEAM could win custom water bottles printed with YOUR TEAM logo!! Let's get out there and recruit new riders to help Team Midnight Ridazz win this great incentive! Now THAT'S pretty cool! Okay, here are the details…
* The goal is to register more riders so ONLY new registrations will be considered for this contest. (Adding a rider to our team who is already registered to ride ALC 2013 does not qualify.)
* NEW registrations can be someone who has never done ALC before, or a past participant who has not yet registered for AIDS/LifeCycle 2013.
* To receive credit for any registrations, the new participant must be officially added to Team San Diego (on the ALC website, NOT here on the FB group)
*Team mates under the age of 18 should register as Virtual Lb Cyclists
Visit www.aidslifecycle.org/register -- Use discount code FUNZIE for $20 off of your registration!
reply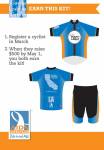 Did somebody say FREE KIT? Heck yeah! Register to ride with Team LAGLC by April 1st, then raise $500 by May 1st and this fab kit is yours! Or BE THE REASON that a new Cyclist rides with us, and when your friend raises $500 by May 1st you BOTH get the kit!
Isn't that some awesome sauce???
Use discount code TEAMLAGLC when you register for $20 off your registration fee!

RideALC
03.20.13 - 4:41 pm
reply