Anyone well-versed in either electric bikes or solar?

Thread started by
CatCampion
at 01.29.13 - 4:16 pm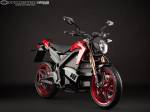 And by bikes...I mean *full-sized*, since the (romantic) motorcyclists have been included here today.
I have been a licensed motorcyclist since (gulp) the early '90s, and have owned a handful of internal combustion engines: Kawasaki LTD 440, Honda CB 550 four, and a couple of other vintage Hondas. Now, I have gone car (and motorcycle) free. However, my career is telling me I should really have some rapid-transit for those multi-city (LA, Santa Monica, Burbank, etc.) days, when public transpo + bike just won't do the trick. If anyone has experienced electric cycling, please chime in. I am leaning heavily towards the 2012 Zero S, currently being offered with a $2500 bonus with trade-in on an ICE bike (which I no longer own - so may be in the market for a cheap, crappy motorcycle to unload as well).
Also, I am hoping to power this baby as much as possible with solar (I live in a house to myself, with a high, flat, sunny roof), so any input on that would be much appreciated.