GUERRILA BIKE-IN SUMMER PARTY RIDE

Thread started by
sexy
at 05.18.13 - 3:49 pm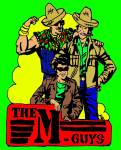 GUERRILA BIKE-IN SUMMER PARTY RIDE - YES THIS IS A DRIVE IN FOR BIKES!

05.18.13
they say in the listing that they are going to have margarita slushy does that mean the Margarita Guys are going to be there?
reply
<!@#$? width="560" height="315" src="http://www.youtube.com/embed/iOuSc4prPdM" frameborder="0" allowfullscreen>!@#$?>

sexy
05.18.13 - 7:10 pm
reply
I don't know why youtube is being a jerk and not having the old embed code available?
Champagne Bike Ride Monster Paw

sexy
05.18.13 - 7:17 pm
reply