Free Trailer Bike ...

Thread started by
trickmilla
at 01.5.21 - 2:16 pm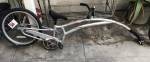 Works well, just needs a little Lube and a wipe down.
Tire and tube are less than a year old.
I'd prefer this is used to gget a kid on the road, but if this is for you freak bike it better be fucking amazing.
Free if you pick up. (Nearest Metro = Hollywood / Western)
Venmo me $10-$20 & I'll deliver it to you.
Text me: 323-793-566(ate).
reply