Fire Road Cruise!

Thread started by
rev106
at 08.24.16 - 9:44 pm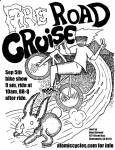 What:
The Fire Road Cruise is just that a "cruise" on streets and fire roads. The mileages is long, the pace even not too fast, the views are great. How much fun you have is up to you. Any kind of bike is welcome, we will be hitting some hills and some dirt, most people will be riding a BMX styled cruiser, klunker, vintage mtb or other bike but we don't care what you bring as along as you show up ready to have fun!!!
Before the ride we will be having a bike show, one entry per person with a people's vote for best of show. Voting begins at 9am so get your bike there by 8:30 am no later. It is supposed to be fun.
After we do the show we do the ride, we will have route maps and stop once for a small amount of time for restroom and water refill.
Bring stuff to fix a flat and some water. Tune your bike up beforehand.
Finishers will get a button, quitters will not.
BB_Q afterwards-free. Beer is not, bring some $$ for that.
When:
September 5th 8am gather, 9am show 10 am roll Yes it is a Holiday on a Monday.
Where:
Hand Brewed
Produced at 9771 Variel Ave. Chatsworth, CA 91311
See you then!!! Please spread it around to your peeps!!