SCUMBAG Weekend

Thread started by
rev106
at 09.10.17 - 9:04 pm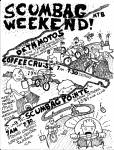 Hello all,
Just letting you know that we are coming up on our annual celebration of the formation of the SCUMBAGS, the dirtiest mountain bike club and ever rode crappy bikes up steep ass hills that you\'ve ever seen! So we have decide to have something to do all weekend long in October 13-15th, hopefully you can make it so all the rides or just one.
October 13th:
Deth Moto 5
At paul\'s house. RSVP for location.
7pm moto begins at 8pm.
Crappy 20 BMX bikes on the DICK TRACK. The rules are simple.
Ride.
You die or.
The bike dies.
Last three will get a re-start for a foot down elimination.
Food will be present. Bring your own booze if you want that.
October 14th:
Coffee Cruise
Meet at Cafe doughnut on the corner of Tampa and Rinaldi
19362 Rinaldi
7am meet 7:30 ride.
We\'re doing a climb and will be doing some street and some dirt to loop back to the staring point where you can enjoy some coffee after the ride. Should take an hour and 1/2 for the ride max.
October 15th:
Climb to SCUMBAG Pointe.
7am meet up at Stough Canyon Nature Center in Burbank.
7:30 am roll out
Fire road climb 4 miles. Hang out at the top.
Please share with your pals. See you then!!!
reply