Drawn Poorly

Thread started by
rev106
at 03.7.17 - 8:31 am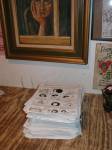 I figured I d risk the trolls to throw this out here. I ve been drawing a 3 paneled comic strip every day since October 2005 so I have lots of them lots! I was tricked into making a website and "sharing" it with others still not sure if that was a good idea or not. anyway you can check them out at www.drawnpoorly.com and I have a book zines and records on ebay if interested...
http://www.ebay.com/itm/192110464886?ssPageName=STRK:MESELX:IT&_trksid=p3984.m1555.l2649
Thanks for looking.
reply
I'm also on the insta-lame now...
so bad.
https://www.instagram.com/drawn_poorly/

rev106
09.26.17 - 7:04 am
reply