Mini-Velo 2017 Part 2

Thread started by
the reverend dak
at 07.10.17 - 11:14 am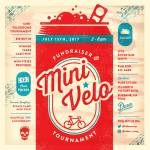 Missed it in June? This Saturday is your last chance. New location (see flyer). You must be qualified to race. Qualifications will happen before and between races. Playtime on the mini-velo is OK, but in order to compete you MUST prove you can drop in, ride fast, and slow to a safe stop without endangering anyone.
Want to race? Challenge your friend, one on one. Get in the queue, and race for a prize pot. Races start when enough racers sign up.
July 15th, 2017
2PM to 8PM
Bands, Food, Swag, Fun for all ages.
Up-to-date info on Twitter and Instagram:
https://twitter.com/RidazzCamp
https://www.instagram.com/ridazz_camp_/
Don\'t forget this is a fundraiser, and all proceeds go to building and transporting of the mini-velo.
http://www.midnightridazz.com/viewStory.php?storyId=10873
See you there!
Any questions?
reply