SCUMBAG MTB RIDE

Thread started by
rev106
at 10.18.16 - 8:26 am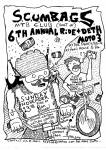 Hello kiddies,
How's it going? Looking for some action? Well we have a mtb ride on November 13th(see flyer)for all you cats out there who are waiting for MR to return back to it's glory days, well that won't happen now that heroin is back by popular demand.....
Afterwards in the evening I'm hosting a party/DETH MOTO at my house. We've been working on"The Dick Track" a lot and have added rollers, jumps, and berms, rad berms that you can rail for ever and ever! Last rider left riding gets a trophy. The rest die.
I feed you. I will be making my legendary hummus. I don't imbibe in spirits so if you want that, you may have to bring it yourself.
rsvp at rev106@yahoo.com for my address.
I miss you guys too you know?