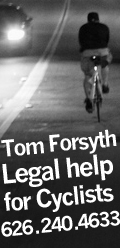 Ridazz Roulette!





Long Beach -----------> All City Toy Ride 2013

12.13.13


Long Beach All City Toy Ride

Friday December 13 2013



Meet 6:30 pm



Ride 7:00 pm SHARP



21 miles to Olvera Plaza in old Los Angeles



Bring an unwrapped new toy (retail value $5 - $25)



Calling all Midnight Ridazz, Critical Masses, Bicycle Clubs and all you once a year do good-ers.

The Long Beach feeder ride will meet at 1st. and Pacific (in front of Lincoln Park) at 6:30, and roll out at 7:00 pm.

We plan to arrive at Olvera Plaza by 9:30. This will allow some time for us to meet old and new friends and rest a bit before the short main

ride to the secret party location.



The main ride departs the plaza at 10:00 pm, give or take.



Our ride will be chill pace.



Based on past rides, it will take a bit more than 2 hours to ride the 21 miles to Olvera Plaza.



You can take the Blue Line train back to Long Beach after the festivities. Last train leaves 7th & Flower station at 2:00 am.



Fabulous custom spoke card for all Long Beach Ridazz.




The 8th annual  Midnight Ridazz All City Toy Ride. Bring the fun back!! Since 2006 we have been taking over the streets in holiday cheer

and a bit of debauchery. Once a year we ask you to give back and reconnect.Leave the excuses behind and join our fellow riders. This is

the ride that makes you blow off the cobwebs from your bikes and minds to remind you of what joy it is to ride in LA.Put on your ugly holiday

attire, decorate your bikes, fill up your flasks and join us.




For this ride we ask that all participants bring one new un-wrapped toy valued between $5-$25.




Your caring toy donation will go to charity as always.





Posted by Creative Thing