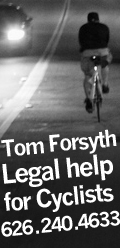 Ridazz Roulette!





Long Beach--------->ACTR

12.9.11


Meet at Lincoln Park in down town Long Beach (Pacific & 1st.) at 7:00 pm, ride promptly at 7:30 pm

Up Long Beach Blvd. to Los Angeles and Olvera Plaza. ETA 9:30 pm.

It\'s about 21 miles with no hills and light traffic.

Bring an unwrapped toy to donate ($5 - $25 value) and to be admitted into the swinging after party.



Bring:

some cash for food & drink and to get back to L.B. on the Blue Line.

Lights!

Spare tube

& anything else you\'ll need to be comfortable and warm.



Spoke card for every ridah.




Posted by Creative Thing