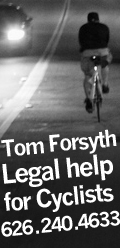 Ridazz Roulette!





Ride Leaders Part 3

05.11.11






***** Your name and What ride(s) are you most known for organizing?

Brad; The Ride With No Name. on here, my M.R. log in is BARLEYE



Roadblock. I organize The Hustle Ride and Midnight Ridazz rides here and there.



My name is speedybrian2000, I organized a couple of valley rides a few years back in 2006: Barchopz and Cruzz with us. Presently I dont organize any rides (Im retired! haha)



***** Give us the rundown on your first organized ride.

Brad: It was in November 2008. I don't remember much about the ride except that it was sorta surreal looking over your shoulder and seeing a ton of people listening to me lead the ride….I was clueless on how to do it so I met with Lance of the Chill Chinatown Mosey and he schooled me on which liquor stores were open late and helped me with my first route.



Roadblock: I will talk about my first "officially" organized Wolfpack Hustle ride... I posted it on the Midnight Ridazz calendar and about 40 people showed up.



Speedy Brian: First ride was a small beach ride at Manhattan beach. About 15 riders. I actually got there late and we rode to Hermosa Beach, ending up at a few bars. This is where I first met User1 and Bigbikedan.



***** How many showed up?

Brad: I think around 150-160



Roadblock: I think it was about 15 that finished... not sure how many started....



Speedy Brian: We had around 15 show up, so not too bad for a first time thing.



***** What were your expectations? Were they met?

Brad: I didn't know how many would show up besides my friends or what to expect..I've seen rides where 5 people showed...…I was hoping for at least 40-50 but then groups and more groups of people kept riding down Traction.... My expectations were totally met AND some…



Roadblock: Far exceeded. I don't rememeber too much about it but the people that came out were amazing. We went to commerce that night. I met Tattiya and Wise and Cole and so many other great characters on bicycles. We thought we were fast too. ha. The speed now is just insane compared to then.



Speedy Brian: I wasn't expecting much, but we had a good turnout and it was better than I expected. I appreciate everyone that came out and supported the ride.



***** What has been the largest and smallest turn outs?

Brad: Largest was probably the Punk Rock themed "Beyond and Back" ride in March 2009. It was a collaboration ride with Mr. Rollrz' knowledge, music collection, and punk magazines/artifacts of his that made the ride a success. About 250, maybe more were on that ride and the smallest was a mid city start point combined with it raining on us brought out 45 people.



Roadblock: Smallest turn out was 8 on a FREEZINGLY COLD ASS WINDY NIGHT right after a downpour. I stepped out the door and almost turned around but I reluctantly showed up. I was ready to just make it a short 20 miler and go back home and be warm under the sheets... Somehow we rode to Donut Man in Glendora--- a 60 miler.... Really great night.



Largest turnout is usually for the All City Century anniversary rides. The first one had 80 people. The start of the ride was already furious I didnt think we'd keep that pace up for long. I think about 40 people finished...



Speedy Brian: Smallest turnout was 3 riders (because of rain) and the largest was maybe 600-700? on "The Big Ass Ride"



***** What motivated you to decide to organize a ride?

Brad: If you want something done right, do it yourself. When Sins and Sprockets announced their last monthly ride was in October 2008, I knew that was time to start preparing my own ride. At that point, there weren't many big weekend rides plus I knew I could pull it off….Cruzz with us was around and C.R.A.N.K. mob was too…..If I didn't step up, someone else would have and L.A. was in need of a good ride. I didn't wanna risk having a lame ride fill the gap being left open by SNS. As a show of respect to Charlie and The rest of SNS, I didn't post up my ride until the Saturday morning after the last SNS ride.



Roadblock: Just seeing how fun it is to do. My first organized ride was Midnight Ridazz number 9 The Strip Ride. It's a lot of fun but it's also a lot of responsibility. I think I get too anxious when I'm organizing Midnight Ridazz... But Wolfpack is another story. I love organizing that ride. We follow the same principals of Midnight Ridazz - All inclusive community concepts except that people do get dropped.



Speedy Brian: I have always enjoyed huge party rides, where riders dressed up with a theme, so thats what I wanted Cruzz With Us to be about. But I wanted Barchopz to be the total opposite of any rides you have been to: bars, stripclubs, bowling alleys, clubs, bands, and pool halls – more emphasis on drinking and partying and having a good time than riding for 25+ miles. Also, wanted it to be the slowest ride possible, so that beach cruisers, bmxs, and custom freak bikes would be right at home. However, lately it has evolved to be more of a chill ride, still very social, and riding a little bit more.



***** In the initial planning stages? Did you want it to be a Party ride? Training ride (wolfpack / Cub Camp) or just for chill/fun ride?

Brad: Always a chill / fun paced ride. People can make it their own party but I've never been into themes on any RWNN except for "Beyond and Back".



Roadblock: Fast paced for sure.



Speedy Brian: I wanted it to be a party ride, chill enough that even riders on beach cruisers would not feel uncomfortable. At the time there were many fast-paced rides, so it was a nice change.



***** Was your first ride modeled after another ride? Such as number of stops? Certain areas?

Brad: It was modeled after Sins and Sprockets and to a lesser degree The Chill Chinatown Mosey. I did the liquor store/market stops for the first year or so but ended that to make the stops shorter.



Roadblock: Wolfpack was born from the Tron ride which featured three routes one of which was fast paced. So it was kind of modeled after that but with stops given out one leg at a time rather than all at once. This lets us keep control of the rides in which surely faster riders than us would show up.



Speedy Brian: The only ride similar to this was Trenway (TWBG) and Sins and Sprockets, but we did not want to copy anyone. I prefer to have many stops, helps to regroup. I liked planning rides in nicer areas with nice smooth streets and no big hills.



***** How long does it typically take to plan each ride?

Brad: About 7 + hours. I use Gmaps, then I ask a few friends about certain areas, the streets, the parks, etc…then drive it in my car a few weeks beforehand to check for un-rideable streets with potholes, closures, etc., then, I drive it a day or 2 before the ride for any last minute street closures, and this has happened on more than 1 occasion and I had to re-route…, preparing the playlist, designing the spoke card, printing, cutting, laminating, and cutting them out of the plastic, typing out route slips…there's a lot of stuff that goes into planning a successful ride…



Roadblock: These days about 5 minutes. I literally just frankenstein routes on the fly with Hayden. It works out.



Speedy Brian: I tried to spend a little time to plan good stops, good interesting themes, checking out the route, and design and print some spokecards – so not really a lot of time.



***** Do you receive help from others or google maps, etc?

Brad: Usually Louis (dekadanzy) and Harry helps me out with most of it. I always utilize Gmaps as well.



Roadblock: I try to archive all of our routes the next day. So far I have about 100 or so maps on google.



Speedy Brian: Yes, there are always people helping out in some way or another, which makes for a good ride. For planning routes I used gmaps - very helpful.



***** What are your biggest fears on each ride?

Brad: Consistency is the key to a successful ride…I always have a route, spoke cards, and the playlist ready at least a week ahead of time….M.U.S.I.C. and a loud sound system are the main ingredients to a really fun ride….Besides the obvious fear of people getting hur, having the big music trailer NOT be available and functioning is probably the biggest fear.



Roadblock: That someone will get hurt. I make sure at the begining of every ride that I give every new person "the speech." Basically outling for them what the night is going to look like. we respect the reds, we time the lights, call out everything you see, no weaving, err on the side of caution. Give the utmost respect to cars on the road and espeically to law enforcement. We have this ride down to a science. It's pretty safe and people do look out for each other.



Speedy Brian: I want everyone to have fun, but I want to avoid any accidents/tickets and anyone getting hurt.



***** Does rain cancel your ride? If not, What would it take to cancel your ride?

Brad: Luckily it's only rained twice on a RWNN and they were the funnest rides we did.….Nothing would cancel the monthly ride when it was still monthly…see next question.



Roadblock: Death.



Speedy Brian: Yes, rain definitely cancels the ride!



***** Do you have a back-up crew in case you can't make it?

Brad: Yes. I think it was September 2009, I couldn't make the ride for personal reasons, and the neighborhood Tren Way folks stepped up with 24 hours notice and Marino led the ride.



Roadblock: I've only had to rely on a back-up crew twice in over 160 Wolfpack rides... Either myself or Hayden handles it otherwise.



Speedy Brian: Yes, I'm sure many guys will step in or step up if I cant make it – not a problem



***** Why did you pick the specific day to have your ride?

Brad: Third Friday seemed to be a good consistent day and combined with the end of the monthly SNS ride, it just worked.



Roadblock: Mondays just came around because it seemed safest for the least amount of traffic especially drunks. We didn't pick that day out right... it used to roll on Fridays sometimes before we made it a weekly thing.



Speedy Brian: The last saturday of the month just allowed more time to plan the ride.



***** What other rides were happening on the same day?

Brad: Sins and Sprockets was such a powerhouse ride with a HUGE following that I don't even recall any significant rides trying to organize on any 3rd Friday of the month.



Roadblock: At the time none. It used to stay that way for quite a while but the whole Midnight Ridazz calendar got filled up and now there are 3 or 4 other rides on Mondays. It's pretty cool to ride past one of them and say what up.



Speedy Brian: Not sure if there were any other rides on the same night.



***** Do you check the ride calendar before each ride to see what else is happening that same day?

Brad: I did every month out of curiosity….Just a few months back, the TICK TICK ride was scheduled on the same night and I really wanted to do that ride as well….Luckily nobody has attempted to steal away the crowd that comes to RWNN. I've started doing a few day time rides and I still look to see what else is happening at the same time.



Roadblock: nah... only for our races. We try to put the races on days when there are no big rides.



Speedy Brian: Yes, there is always rides going on at the same time as yours, but you cant help that.



***** How did you arrive at a ride name? What names did you consider?

Brad: There used to be rock n roll club in Hollywood called THE CLUB WITH NO NAME. I never considered anything else.



Roadblock: Hayden called it Team Awesome for a while then it was Tang's at Ten and then finally Wolfpack!! I added the two exclamation marks to differentiate from the many other Wolfpacks out there... wrestling, military groups, sports teams. Finally I came up with Wolfpack Hustle as the final name because we always called it a Hustle not a Race...



Speedy Brian: A buddy came up with the name (Leo) but its Bars + Choppers = "Barchopz" For "Cruzz With Us", that is literally what it is, cruise with us.



***** Do you feel a catchy ride name is important for a ride's success?

Brad: Of course. "The Ride With No Name" is so basic yet catchy at the same time. Like I said before, there are a lot of components that come into play to have a successful ride but the first impression any rider will have is the name showing up on the M.R. calendar.



Roadblock: Yes actually I do. the ride name should also be unique for best results. I've fought hard to protect the name of our ride from others. I feel like when people see that a ride or race is being called a hustle they should expect quality and leadership. I put my reputation on this ride and biters can't match what I bring to the ride. When we throw a race we go out of our way to make sure it has great prizes, that it was run fair, and that if you do win the dog tags, that you feel like you achieved something extraordinary. Anything less, is not tolerable. I will cancel a race if I feel like it won't be run proper. If someone complains about their treatment on the Hustle ride I will follow up on their experience and find out why something went wrong and fix it. Sometimes the real problem is in managing a new rider's expectations. Sometimes it is our fault and if it is I apologize, re-think the method, and invite the person back for another try.





Speedy Brian: I think it helps to establish a ride and to give it some character.



***** Has your ride ever been hijacked? If so, to what extent? please elaborate.

Brad: It's never been hijacked…Attempted MANY times by some shithead kids but with Harry's sound system, people know to follow it.



Roadblock: Never. Early on, though there were problemns with riders who wouldnt respect the reds or they wouldnt respect the pack. Only a few minor instances though and eventually everything was good. If people are faster than us, we LOVE them. It pushes the whole group to be faster, but the fastest person still can only go to the next stop and wait for everyone to catch up before the next directions are put out.



Speedy Brian: There have been two times the rides have been hijacked, but we managed to regroup. I like for riders to stay together and not get lost.



***** What size ride did you envision when you started the ride? Has it ever gotten out of control?

Brad: I envisioned it to be exactly what it is. A larger scale ride of at least 100 people each month.



Roadblock: 10-20... We average 20-30 depending on weather and whether there is a race coming up. People come out of the woodwork to train for the race.... hmmm maybe I should be throwing more races just so I can see the old faces!



Speedy Brian: Barchopz has always been a smaller ride, so it has never gotten out of control. I wanted this ride to grow to around 200 and that would be fine.



***** When you're on other rides, do you analyze it and compare/contrast to your own ride? Or What you would have done differently?

Brad: Every ride I do that and for the most part would always do things differently.



Roadblock: Sometimes.... I don't get out on many rides anymore. I'm into cooking and commuting more than anything. But when I do analyze a ride I'm always amazed at how much people put into their ride concepts. It's fucking awesome. Tarsis, Chynna and Danya all impress me with their dedication and imagination. Barleye and the Ride With No Name has great routes. SKIDMARCUS is probably my favorite conceptualizationistomatic rida ever. He always comes up with twisted funny copy and pitches for his rides. Friend of the Friendless has to be hands down the illest most funnest concept for a ride. Lee and Bicykillers is probably the best name for a fast paced ride other than Wolfpack Hustle.



Speedy Brian: Since they were different styled rides, I wouldnt compare it to any other ride. But that's what I like about different rides, each are unique.



***** What the best and worst part about doing a ride?

Brad: Best is being able to ride with my friends and worst is when the music trailer isn't working and the kids ride way ahead and try to make it their ride with their own route....



Roadblock: Being responsible for people's time. you want them to have a good experience and when you get people coming up and saying they had a great time it's the best. The worst is seeing comments on the forum criticizing the ride. I don't mind the criticism, it's just knowing that you let this person down that motivates you to do better next time.



Speedy Brian: Best part is meeting new riders and making friends. You also know its gonna be a good ride if you plan it! There is no worst part of doing a ride!



***** How long do/did you envision the ride continuing?

Brad: The monthly ride ended in November 2010 on the 2 year anniversary. For the first 1 ½ years of it my friends were coming out and I didn't see it ending any time soon.…Now the scene's changed and I don't know a lot of the new riders…The old schoolers of M.R. don't do the big group rides much anymore…



Roadblock: Wolfpack Hustle will ride forever in some form somewhere on earth until the sun goes dim.



Speedy Brian: Not sure. Its been three years since I have led any rides, and I feel its time to give others a chance to lead rides and improve them.



***** Do you consider spoke cards to be a reflection of the ride? the organizer? or both?

Brad: I do feel it's a reflection of all the above…Effort is the key. If it's evident the organizer put some time and creativity into the spoke card, you're probably gonna have a good ride ahead.



Roadblock: If you get a spoke card on Wolfpack you are blood. You have proven that you are trusted and respected. People ride for a long time sometimes before they get one. Most of the time it takes so long because I forget to bring the spoke cards. If you ask for a card, you won't get one and no one knows the real criteria for getting one... Another little known fact, Mr. Rollers has had a hand in making every single Wolfpack spoke card. They are simply all black with nothing written on them. They should be put on the rear wheel only. Placed on the the same parallel as the valve stem. They should be the only spoke card occupying the wheel and placed on the opposite side of the cassette or gear.



Speedy Brian: Yes, I feel that spokecards are a reflection of both the ride and organizer. It helps give the ride some flavor and ridazz seem to enjoy them.



***** Is there anything you'd like to add?

Brad: I'm not doing the ride monthly anymore but will most likely do a few Ride With No Name's each year. I've started doing some weekend day time rides. Thanks to all of you that supported The Ride With No Name for the last 2+ years…



Roadblock: Every ride is a group ride if you talk to yourself.



Speedy Brian: I know that all of these bike rides are "just bike rides", but that doesnt mean we cant improve them and make them grow. I seem to miss those rides that roll deep, 1500 to 2000 ridazz (that was amazing!) Its just up to everyone (yes you) to keep MR going, and we will continue to have fun many years from now!!!








Posted by barleye