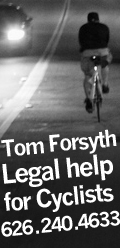 Ridazz Roulette!





Long Beach to -------->> All City Toy Ride!

12.10.10



MEET at 7:15pm... RIDE at 7:45pm



Lincoln Park ( First & Pacific), across Pacific from the Blue Line station.

DNTN Long Beach



We will meet up with other MIDNIGHT RIDAZZ groups from all over Los Angeles County at 10pm at Olvera Street in DTLA.



We'll all ride together for a few miles and end at an after-party a few miles away.



---->>FOOD & DRINK



--->MUSIC



--->SPOKE CARDS



For this ride we ask that ALL RIDAZZ bring one new un-wrapped toy/gift valued between $5-$25. Toys will be donated to a charity benefiting children.



ROUTE: Up Long Beach Blvd. 21 miles to Olvera Plaza



We leave at 7:45 sharp so we can get to the plaza before 10.




Posted by Creative Thing