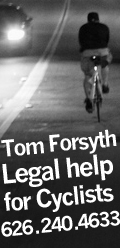 Ridazz Roulette!





SGV MOMs -----> All City Toy Ride

12.10.10


Location; Valley and Fremont under the Alhambra Arch. Across the street from Jack in the Box and CVS and the gas station.



Meet @ 7 leave at 7:45ish. not later than 8



All bikes styles are welcome, this will be a slower gentler ride, with mainly downhills on the way to the ride.



I will be pulling my music trailer, so bring a Ipod if you want to hear your music.



We will be heading to meat up with the SFV and NELA portion of the ride @ San Fernando & Fig, then riding together to the main group at Olivera Street by 10pm.



For this ride we ask that ALL RIDAZZ bring one new un-wrapped toy/gift valued between $5-$25. Toys will be donated to a charity benefiting children.



I will be riding back to the same area AFTER the event space has been CLEANED and properly taken care of. You should think about doing your part to clean up too! We leave a big mess every year that someone cleans up every time.





Make sure you have;



Lights





Helmet





Tubes





Etc.





REMEMBER:





BRING A TOY!!!!!





HOLD YOUR LINE





STAY TO THE RIGHT





and.. FOLLOW THE MUSIC!!!!




Posted by TheDude