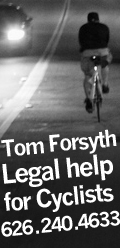 Ridazz Roulette!





MK4524

08.5.10



What's your name (optional) and/or your Midnight Ridazz log-in name?
Mike
MK4524

How did you first hear about Midnight Ridazz and what was your first group bike ride?
I first heard about group bike rides listening to Design and Architecture on KCRW. Frances Anderton did a segment on RideARC and I was convinced I had to try it. My first ride was in October, 2006 and I was hooked. Then on RideARC I had heard about Midnight Ridazz and thought I'd try it some day. In the meantime, I fractured my wrist in a mountain bike accident and figured it was about time to try something different. My first ride was the Clown Ride. I couldn't believe the size of that ride and got hooked on Midnight Ridazz too. From that point on, I made sure my first and second Fridays were free.

Currently what rides do you attend regularly and what ride(s) would you like to see make a comeback?
I'm riding with Team Midnight Ridazz again so I try to make as many team training rides as I can. But I try to catch Ride With No Name, Spoke(n) Art and the 2nd Friday ride. Whenever Brian has an architecture ride, I'll do everything I can to make it.

My favorite ride is Bike Moves, here in downtown Santa Barbara, meets on the First Thursday of the month at the Wheelhouse on the corner of Cota and

I really miss RideARC. If Alex needs help doing one again, I'd like to be the first in line to volunteer.

What advice would you pass on to new ridazz?
Ride for the fun but be safe; leave your hostility at home and remember to share the road.


If you were leading a group ride, what would you do differently?
1) Shorter stops, these long stops are really boring, I came to ride, not sit around. 2) Don't let the riders in front set a fast pace. If they ride ahead, let them. If you make a turn and lose them it's their problem, they might eventually learn. 3) Pick stops where you can eat. Nancine has got it right.

Do you prefer small rides (30 or less people) or larger rides and why?
No preference.

Tell us about the best and worst experience you've encountered on a group ride.
My best experience has been meeting some new friends. These are people I would normally have never met but have made my life richer. As I get to know more people, I find the rides are more enjoyable.

My worst experience has been dealing with those rouge cops who seem to enjoy hassling riders. Some police officers have been nice and helpful and some have been real jerks who need the ego boost. Then there are the taggers who seem to be magnets for bringing out the ghetto bird. I've begun to avoid the types of rides that seem to bring out young kids who seem to think it's cool to weave in and out of a group ride on their fixies, who love to ride on the wrong side of the street and who get off on taunting cops.

What did you do for fun before you started "riding"?
I assume you mean MR type of riding. Before that I mountain biked but I got tired of always getting banged up and having to fix my bike. I broke so many parts on my mountain bike, I actually ended up upgrading pretty much my entire drive train. Fracturing my wrist told me it was time to try something else. I also ski.

What's the best and worst thing group bike rides have done for cycling as a whole in Los Angeles?
As I look through other spotlights, I think one of the best things group bike rides has done is to get more people on bikes. I personally would not be riding as much as I do had it not been for group rides. I basically went from being pretty much a non-rider to being able to do the ALC ride from SF to LA.

The worst thing I believe has been to bring notoriety to the rides and the resulting polarization in the community. But then, I think that's just a step towards increasing the public's acceptance of cycling.

If you can name 1 person who embodies the spirit of "Midnight Ridazz", Who would it be and Why?
Since Roadblock carried on the legacy from the original riders, he would have to be the person who embodies the spirit of Midnight Ridazz. Other than that, there are many who carry on the spirit of "Midnight Ridazz" in their own interpretations of that spirit.

What do you think the public's perception is of group bike rides?
I'm sure there's a wide range in the public's perception of group bike rides from warm acceptance to hostile rejection.

Is there anything else you'd like to add?
Who's going on tonight's ride?











Posted by barleye