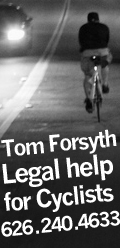 Ridazz Roulette!





SET2STUN

04.18.10




What's your name and / or your MR login name?
Dave Diaz, SET2STUN ( STAR TREK shit )

How did you hear about MR and what was your first group ride?
First heard about MR from a friend who had went on a few rides.

The NELA Spoke'nArt Ride.

Currently what rides do you attend regularly and what rides would you like to see make a comeback?
The NELA Spoke'nArt Ride. Other than that what ever Friday night party ride that sounds cool. NELA Polo, DTLA Polo and 818 Polo when I can get out there.

No comebacks just new and better rides, move into the future.

What advice would you pass on to new ridazz?
Bring tools and tubes, learn how to repair your own bike, stay to the right, just because your in a large group doesn't give you the right to be disrespectful, if you like riding then encourage some else to give it a try.

If you were leading a group ride what would you do differently?
Adhere to the "no rider left behind policy". Return to the start point more often.

Do you prefer small rides (30 or less people) or larger rides and why?
No difference to me although the larger rides can be a little bit more exciting.

Tell us about the best and worst experience that you've encountered on a group ride?

Choppercabras Halloween and Spring thing behind Atomic Cycles in the valley.

Watching a girl take a nasty spill in the DTLA tunnel and ending up in the hospital.

What did you do for fun before you started "riding"?
Dirtbikes (motorcycles), Bars, Desert Camping.

What's the best and worst thing group rides have done for cycling as a whole in LA?
Group rides brings awareness to the "average joe" that there are alternatives to jumping into a car to go out and have some fun.

Disrespectful behavior under the disguise of a large group ride, it makes the whole group look bad not just the pricks.

If you can name one person who embodies the spirit of "MR" who would it be and why?
Barleye. He is always posting the pics of the latest rides, has his own monthly ride, plays polo and is constantly involved in the "MR" community.

What do you think the publics perception is of group bike rides?
Anywhere from "damn that looks like fun" to "those damn bikers are making me late".

Is there anything else you'd like to add?
Don't steal bikes, get out and ride more often, give bike polo a try, LONG LIVE MIDNIGHT RIDAZZ!














Posted by barleye