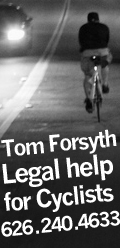 Ridazz Roulette!





ERIC HAIR

04.18.10




What's your name (optional) and/or your Midnight Ridazz log-in name?
Eric Hair

How did you first hear about Midnight Ridazz and what was your first group bike ride?
I had been regularly attending LACM & SMCM (as posted on bikeboom.com); then one month I was checking for the next LACM/SMCM and I saw a calendar entry for something called Midnight Ridazz. Well I had to check it out, and it was the first MR ride I would attend, Riot on Sunset strip, August 2006.

Currently what rides do you attend regularly and what ride(s) would you like to see make a comeback?
I'm all about the people; good people make a good ride. I don't ride nearly as much as I used to, mainly because of a hectic work schedule. I love the RWNN because it's just a great basic ride, just like the old MR rides. I like the F ride because it offers a fast pack and party pack, but everyone ends up at the same place; great for people that like to switch up their riding styles from week to week without switching up the friends they ride with. LOVE, LOVE, LOVE Thursday DTLA polo; it's not really a ride, but it's fun (#1), it's good excercise and will really sharpen your bike handling skills. DTLA has a great regular crowd, and LA is a beautiful city at night. And pretty much any MOM ride is great. There's even fast MOM rides now!!

REALLY miss the MOSEY; probably the best social ride that ever was (so far) and certainly my favorite weekly ride of all time.

Cruzz With Us, another great ride that I miss deeply. Pier Pressure, not really a ride, and not really gone, but seasonal. Pier Pressure is THE aspirational Southern California ride; you go to the beach, you go topless, you don't ride very far, but it's not about riding far, it's about enjoying the day. I aim to attend many of these this year and want to try and renew some interest in beach activities like swimming in the ocean, volleyball/frisbee/whatever, tanning, falafeling, etc.

What advice would you pass on to new ridazz?
The ride is only as great as you make it, be the rider that you'd want to have on your own ride.

If you were leading a group ride, what would you do differently?
Ride far, stop long. Repeat.

Do you prefer small rides (30 or less people) or larger rides and why?
I like small rides because individuals tend to be more responsible for their behavior. Large rides foster a sense of anonymity, offering people little reason to think twice before doing something stupid.

Tell us about the best and worst experience you've encountered on a group ride.
Too many best experiences, but the worst thing I see on rides is violence. Whether it's towards cars, pedestrians or other cyclists, there's just no reason to go down that road.

What did you do for fun before you started "riding"?
I was just getting out of school when I started riding with MR, so before that I spent most of my time pursuing scholastic satisfaction. For recreation I used to surf, when I had access to turntables I really enjoyed spinning vinyl, and my longest standing pass-time is working on cars and other mechanical things.

What's the best and worst thing group bike rides have done for cycling as a whole in Los Angeles?
The more riders there are, the more drivers are likely to be personally acquainted with a rider. Next time a car is passing me I want them thinking about how I COULD be their friend, son, daugther, mother, father, etc, and not just another thing that's in their way.

If you can name 1 person who embodies the spirit of "Midnight Ridazz", Who would it be and Why?
LAhARR, Dekadency, Sexy, and EddieBoy (there's others I'm forgetting, sorry). Always bringing up the caboose on the big rides, helping people out, fixing flats, etc. They've been the friends of the friendless on many rides. Being in the very back of the ride with them is the place to be; it's been my favorite spot on the big rides for a long time now. "No rida left behind" might not be a principle that's as well practiced (or known) as it used to be, but you wouldn't know it to ride with these great ridazz.

Is there anything else you'd like to add?
Props to the folks that are always taking pictures. These are great moments that you're capturing (usually, lol) and I know there's thousands of people that genuinely cherish some of the pics you've snapped.












Posted by barleye