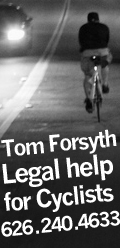 Ridazz Roulette!





ROGUE RIDA

04.7.10




What's your name (optional) and/or your Midnight Ridazz log-in name?

Michael (Rogue Rida)



How did you first hear about Midnight Ridazz and what was your first group bike ride?

I first heard about MR through my brother in-law. I am not sure about my first ride, but I know it was a couple rides before the Pizza Box Ride... Was that the name of it?



Currently what rides do you attend regularly and what ride(s) would you like to see make a comeback?

I rarely do posted group rides anymore, but I always like to attend the 2nd Fridays and LACM... I would love to see SMCM come back... Just make sure to bring your lights!



What advice would you pass on to new ridazz?

Respect Traffic. Respect your riding group. Wear a Helmet. Always Pack the essentials (Pump, Tube, Patches, Water). Put brakes on your freakin Fixie! and last, but not least... Watch your fuckin line!



If you were leading a group ride, what would you do differently?

Not that brave...



Do you prefer small rides (30 or less people) or larger rides and why?

Both have their advantages. Large Rides mainly for the Great message it puts out and it is easier to control Blocking traffic. Small groups are great because you have the possibility to wander off the beaten path and not have to worry about to many thieves...



Tell us about the best and worst experience you've encountered on a group ride.

That mother fucker who drove their stolen SUV directly through our group riding home on Washington an Crenshaw.



What did you do for fun before you started "riding"?

Mainly I went Mtn Biking or riding around town with my brother in-law... Luckily I found MR a few months after moving out here.



What's the best and worst thing group bike rides have done for cycling as a whole in Los Angeles?

Group bike rides have caused a ton of animosity due to corking and blocking traffic. But it has pushed the message of alternate forms of transportation and made this city way more health conscience.



If you can name 1 person who embodies the spirit of "Midnight Ridazz", Who would it be and Why?

Big Bike Dan and his Magic Wagon... He made sure people heard us coming. He made sure people knew we were there. He made sure people knew where we were going... He is a great guy... I always make sure to say my Hello when he is around



What do you think the public's perception is of group bike rides?

God Damn Libral Punks!



Is there anything else you'd like to add?

Ride On...














Posted by barleye