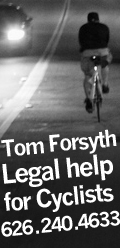 Ridazz Roulette!





SNAPPERS

03.17.10





What's your name (optional) and/or your Midnight Ridazz login name?
Avery aka SnapperS

How did you first hear about Midnight Ridazz and what was your first group bike ride?
I first heard about MR from my buddies Graham and Syoma. They pretty much disappeared for months. I knew this "bike ride" thing had to be good. My first ride was "Where's Steve?" in the Valley.

Currently what rides do you attend regularly and what ride(s) would you like to see make a comeback?
Sadly, due to my work schedule, my monthly ride intake has gotten smaller over the months. I attend the second Friday every month and host the last Saturday SFV ride, formerly know as Cruzz With Us.

Some rides I would like to see make a comeback: Sins N Sprockets ... CRANK MOB (how it was before the one year anniversary)...Barchopz....and especially SFVCM

What advice would you pass on to new ridazz?
Hold your line!

If you were leading a group ride, what would you do differently?
Drink less. Yell more.

Do you prefer small rides (30 people or less) or larger rides and why?
They both have their perks. Small rides are cool because you can set a better pace, and at the same time leave no rider behind. You notice yourself socializing more on small rides.
Larger rides are almost indescribable. The whole thought of a "party on wheels" is really intriguing to most. Its a good feeling when you can't see where the ride starts or where it ends - definitely one of the things that made me fall in love with Midnight Ridazz and the whole bike scene.

Tell us about the best and worst experience you've encountered on a group ride.
It's really hard for me to name just one "best" experience I've had. Whether it be escaping L.A. to the Salton Sea, riding a girl bike as Santa for Santacon, following The Box on CRANK MOB 1-year anniversary, or Al All City Toy Ride, when we partied at TOW til 5am ... the good experiences are endless..

Worst experience ... Having 15 squad cars pull over a 30-person ride.

What did you do for fun before you started "riding"?
Smoked way too much weed.

What's the best and worst thing group bike rides have done for cycling as a whole in Los Angeles?
I know I'm probably the hundredth person to say this, but I think the best thing the rides have done for L.A. is show people that there's an alternate form of transportation besides a car or bus, and that we can have FUN riding our bikes.

The worst thing in my opinion are the group rides that are out constantly stealing and tagging. I think that makes a really bad reputation for the whole MR community in general.

If you can name 1 person who embodies the spirit of "Midnight Ridazz", Who would it be and Why?
Joe Borfo. I think the name says it all.

What do you think the public's perception is of group bike rides?
There are mixed opinions about us. It's mostly "Where are you guise going?!"

Is there anything else you'd like to add?
Remember... Safety third!













Posted by barleye