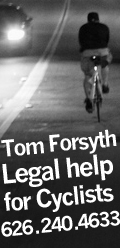 Ridazz Roulette!





VSPANGLE

03.17.10




What's your name (optional) and/or your Midnight Ridazz log-in name?
Vspangle (also known as M.L.Appel, sometimes Michele)

How did you first hear about Midnight Ridazz and what was your first group bike ride?
B-rad; the 2007 Lights Out Ride to the Griffith Observatory, then East-Side to Crank Mob, and Crank Mob (all in one night!)

Currently what rides do you attend regularly and what ride(s) would you like to see make a comeback?
I don't regularly attend anything and...I would just like to ride with my friends again.

What advice would you pass on to new ridazz?
Dress-up a lot, talk to everyone, dance, and...ride smart.

If you were leading a group ride, what would you do differently?
Stop more and play games.

Do you prefer small rides (30 or less people) or larger rides and why?
I like them all!

Tell us about the best and worst experience you've encountered on a group ride.
Drunk people hurting themselves and others by riding recklessly/People getting violent with drivers.

What did you do for fun before you started "riding"?
I didn't know what fun was before riding. Now I know it has to do with riding somewhere, something adventurous, and hopefully dancing.

What's the best and worst thing group bike rides have done for cycling as a whole in Los Angeles?
They've only done good things, just stop getting too drunk and endangering yourself and others--oh yeah, and stealing's a little pathetic. As far as tagging and wreaking havoc, just make sure it's pretty, is not totally selfish, and that in the end no one's honest work is compromised.

If you can name 1 person who embodies the spirit of "Midnight Ridazz", Who would it be and Why?
Everyone who goes on the rides and calls themselves a rida exemplifies the spirit. Skidmarcus will always be the icon for me. Roadblock, Rollers, Mixtemotions, Dan Berlant, Heather Ryan...they're also heroes of mine, among many.

What do you think the public's perception is of group bike rides?
"What, people ride bikes in Los Angeles? At night?"

Is there anything else you'd like to add?
I've said it before and I'll say it here, for the record: Los Angeles cyclists, especially the Midnight Ridazz, are the loveliest people on the planet and no matter how far I get from their ranks, I will always feel like their my only.

XOXOXO

Ride on!!!










Posted by barleye