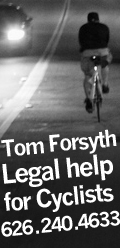 Ridazz Roulette!





iJUNES

03.17.10






What's your name (optional) and/or your Midnight Ridazz log-in name?

iJunes



How did you first hear about Midnight Ridazz and what was your first group bike ride?

A kind passerby on my way home from work told me about CRANK MOB.



Currently what rides do you attend regularly and what ride(s) would you like to see make a comeback?

Whatever ride I can make it out to on my free time.



What advice would you pass on to new ridazz?

Be safe, courteous to others, don't step out of line, and don't take everything so seriously.



If you were leading a group ride, what would you do differently?

I have led several smaller rides, and a couple of big rides, but leaders should really try to be inclusive. If you call out the trouble makers and take them in to the bigger group, they'll find themselves having too much fun to cause trouble.



Do you prefer small rides (30 or less people) or larger rides and why?

Smaller rides tend to ride more defensively and within reason. They offer a more intimate experience with the riders you are riding with.



Tell us about the best and worst experience you've encountered on a group ride.

It seems though as all the best experiences are the ones you don't remember the next morning. The worst one had to have been getting my bike swiped.



What did you do for fun before you started "riding"?

I've always had an athletic interest. Cycling transitioned well in between.



What's the best and worst thing group bike rides have done for cycling as a whole in Los Angeles?

The best thing is to bring increased awareness about the presence of bikes. The worst thing is patronization.



If you can name 1 person who embodies the spirit of "Midnight Ridazz", Who would it be and Why?

What would MR be without bentsrider?



What do you think the public's perception is of group bike rides?

'damn bikers'



Is there anything else you'd like to add?

Ride the EFF on.













Posted by barleye