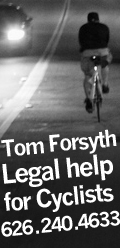 Ridazz Roulette!





AIDS66

03.15.10




AIDS66



What's your name (optional) and/or your Midnight Ridazz log-in name?

Adrian, MR log-in Aids66 or what people have been calling me on rides Misfixed.



How did you first hear about Midnight Ridazz and what was your first group bike ride?

I first discovered MR while searching for road bikes on yahoo, checked the site out and liked what I read. My first ride was Ride Arc "Black History in L.A" 9/5/08.



Currently what rides do you attend regularly and what ride(s) would you like to see make a comeback?

Regular: Taco Tuesday, Kush Town, 2nd friday MR, RWNN, LACM, The New Ride Type? and Boba Saturday.



Comeback: Tattoo Ride, Pigeon Run Ride, Jesus Christ Ride, DTLA Fun Ride and Ride Arc.



What advice would you pass on to new ridazz?

*Meet as many people on the rides, don't be shy

*Learn what this means : hold your line, fall back, slowing, stopping...

*Come prepared to fix your shit, I'll help you but meet me half way



If you were leading a group ride, what would you do differently?

I lead Midcity Misfixed and what I try to do is meet as many people in attendance. I figure I know you by name so if you screw around I'm calling your ass out by name.



Do you prefer small rides (30 or less people) or larger rides and why?

50/50 small rides are more intimate and it's easier to meet just about everyone. They are also easier to control.

Big rides, well there is no other high you get from taking over the street with 500+ bikes.



Tell us about the best and worst experience you've encountered on a group ride.

Best : My first CRANK MOB. I had never seen so many damn bikes in my life.



Worst : Cracking my head on the pavement coming back from He Man Ride by my self. Laying on the pavement bleeding out your head at 1:30 a.m doesn't feel good. ( the one day I didn't wear my helmet ).



What did you do for fun before you started "riding"?

Went to back yard punk shows as well as on the sunset strip.



What's the best and worst thing group bike rides have done for cycling as a whole in Los Angeles?

Best: made motorist aware of how many bikes actually use the road.



Worst: burning stores, parking lots, neighborhoods.



If you can name 1 person who embodies the spirit of "Midnight Ridazz", Who would it be and Why?

Eddieboy…always willing to help with a positive attitude.



What do you think the public's perception is of group bike rides?

direct quote from friend " don't run a red in front of me cuz I'm aiming for you, and will stop to check if it was a head shot".



Is there anything else you'd like to add?

ride or die.












Posted by barleye