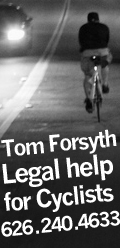 Ridazz Roulette!





FOLDIE

03.10.10


FOLDIE



What's your name (optional) and/or your Midnight Ridazz log-in name?
I go by Foldie on MR


How did you first hear about Midnight Ridazz and what was your first group bike ride?
I think I first heard about MR from the bike shop Metropolis in Northtown. I signed up and lurked on the site for awhile before I started to go on rides.

One of my first rides was a Frank Lloyd Wright architecture tour put on by Agent Orange which I brought my folding bike to. Bad move cuz it was hilly and I was slow so I dropped off early.

Currently what rides do you attend regularly and what ride(s) would you like to see make a comeback?
I have been riding more during the day lately but my favorite rides are: RWNN, 2nd Friday Ride, DTLA Polo (I still suck) and TPOFPTARBMIT
Since I have only been around for a year or so I can't really comment on rides of past, but I am a big fan of rides with an art or architecture bent so I guess Ride ARC would be nice.

What advice would you pass on to new ridazz?
Have fun, be respectful of people even in cars and be cool.

If you were leading a group ride, what would you do differently?
I am looking at smaller and more cultural or place driven rides. For me the party rides are fun, but we should take it to a higher level like what Sean and Nathan are doing with The Passage Ride.

Do you prefer small rides (30 or less people) or larger rides and why?
You can't beat the feeling of the massive ride but small rides seem to be more satisfying and personal.

Tell us about the best and worst experience you've encountered on a group ride.
Best in general is just meeting cool people and having fun.

worst is seeing people crash, tag or be disrespectful.

What did you do for fun before you started "riding"?
I did a lot of Mountain Biking, hiking and camping.

What's the best and worst thing group bike rides have done for cycling as a whole in Los Angeles?
Group rides have given people a way to enjoy the city without a car. Being in a big group is fun and it shows others that riding a bike can be fun.

But like society there is always the nefarious elements that bubble up and spoil a good thing. Tagging stealing and general disrespect for people makes group rides no fun.

If you can name 1 person who embodies the spirit of "Midnight Ridazz", Who would it be and Why?
Stillline for sure gets the top bloke award in my book. He is one of the first people I met on rides and is always friendly and willing to help a fellow rida.

What do you think the public's perception is of group bike rides?
People that encounter big rides like CM most likely hate it, but in general I think people like to cheer us on.

Is there anything else you'd like to add?
Brad is also a top bloke in my book. This and other stuff he does really represents the MR spirit. Thanks.









Posted by barleye