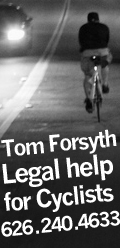 Ridazz Roulette!





TINYCITIES

03.10.10


TINYCITIES



What's your name (optional) and/or your Midnight Ridazz log-in name?
Sheli/Tinycities

How did you first hear about Midnight Ridazz and what was your first group bike ride?
I didn't hear about Midnight Ridazz first; rather I heard about San Fernando Valley Critical Mass (SFVCM). My first group ride was I think May 2007 SFVCM, when Sexy & Brassknuckles were still leading it. I was on my roommate's super-junky Trek hybrid that was probably three sizes too big for me. Definitely made a whiner of myself that night. Regardless, it was super fun, and I couldn't get over it. A lot of the people I met that night I still see on rides and have kept in contact with; it's amazing how one night can cause you to make so many long-term friends. In terms of Midnight Ridazz, I first heard about it on that ride, and had gone regularly on the traditional second Friday MR rides, and the Friday night Valley MR rides. (My first MR ride was, I think, the Wes Anderson ride.) Although I didn't become as active as I would later become until Coe Coe Buttaa pulled me into it after a summer of CRANK Mobs in '08, and we never let go.

Currently what rides do you attend regularly and what ride(s) would you like to see make a comeback?
Right now I'm not attending nearly as many rides as I used to. I'm mostly riding on my own here in the suburban nightmare of the Santa Clarita Valley (attending school), but I still try and make it to the Westside Mosey, and second Friday MR, although RWNN is also a pretty great ride.

I'm really looking forward to spring/summer when the afternoon daytime rides make a comback! Pier pressure, westside mosey weekend editions, and all the upcoming angelope rides. Sangelopes is an insane life experience. So fun!

What advice would you pass on to new ridazz?
Definitely keep an open mind, but also believe in moderation. I have a blast in this community and I almost never drink; you don't have to be drunk to enjoy a bike ride with friends. Also, definitely hold your line. Avoid anyone singlespeed brakeless near you unless you want to be nervous the whole night (they're idiots). All in all, just have fun, try to avoid being a naysayer as much as possible (keyword: try) and go on as many ridazz trips as you can afford, they are definitely life-changing experiences.

If you were leading a group ride, what would you do differently?
Have stuff planned out, but be prepared for it to not go as planned. Be open-minded towards the experience. Respect everyone around you and don't be afraid to make it a collaboration. Just make it happen.

Do you prefer small rides (30 people or less) or larger rides and why?
Small rides are intimate and spontaneous, more things can happen and you can meet so many great people, but large rides are a spectacle. Sometimes you just want people to notice you and this insane sea of people on bikes. Also, that blinky light thing at night when there are hundreds of people going up or down a hill in front of you is an amazing visual. Both ways, you experience the city in a way you can't with a car. I've lived here all my life and I still am amazed by all
these new places.

Tell us about the best and worst experience you've encountered on a group ride.
Best: Portland in June '09 for Pedalpalooza (zoobombing our last night there was intense ); Salton Sea 2&3; pretty much 95 percent of the rides that happened in summer of '08 were AMAZING, and the rides now are still pretty great. CRANK Mob first anniversary was a blast. Riding with Louise, Kieron, Kathy and Coe Coe from Santa Monica to the Guerilla Drive-In Movie in DTLA (first time I had done that, revitalizing experience). Riding all over Santa Cruz with Fuzz & Nathan.

Worst: The CRANK Mobs towards the end where there were too many drunk people and way too many cops. The No Name ride in the valley where 35 of us were searched by around 25 cops at a Rite Aid. End of a SFVCM in summer '08 where I flipped over my handlebars smashing my face into concrete & breaking my hand which later required two surgeries--although the ride itself was still pretty great before that happened. Moral of the story: wear a helmet and have a headlight that you can actually SEE the road with. I had neither at the time.

What did you do for fun before you started "riding"?
I'm currently in my last year of art school getting a degree in graphic design. Design is a pretty large part of my life, as well as living a generally crafty lifestyle. (crocheting is a way of life on
rides for me). Before riding, I spent the majority of my time working at independent record labels and printmaking. Merging your interests is the best thing possible. For example: Midnight Designerdzz (dubbed by TheRoyalAcademy, whose typography ride I deeply regret missing) &
Craft Craft Craft Club, a craft (ha!) club started by Coe Coe Buttaa and I in summer '08 that spanned for nearly a year, including being held at the Bikerowave, where people could make crafty things or bike-based things. Merging interests = excellent.

What's the best and worst thing group bike rides have done for cycling as a whole in Los Angeles?
Best: forcing a large spread-out metropolis like Los Angeles to have a community that isn't designated to one demographic. The diversity of people in this community is amazing and overwhelming. Also, giving people a reason to see the beauty in the ordinary, and in their environment, that would have otherwise been overlooked.

Worst: Giving people an excuse to not go to bars, when this community goes way beyond just getting destroyed on your bike.

If you can name 1 person who embodies the spirit of "Midnight Ridazz," who would it be and why?
Definitely not one person. Roadblock for sure. Borfo/Brassknuckles/Richie/Dak & Steph have really done insane things for this community and it's inspiring. Marcus & Alec are also some of the most inspiring and unique people I've ever met, and their outlook on community-based interaction is something everyone should strive towards.

What do you think the public's perception is of group bike rides?
People dislike things they've never tried, but they're too scared to try them. If more people tried them and held a generally open mind towards them, there would be less of an obesity epidemic, and more fun.

Is there anything else you'd like to add?
Be inspiring and creative and appreciate the ordinary.













Posted by barleye