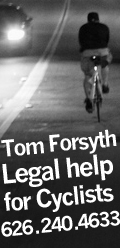 Ridazz Roulette!





XL

03.10.10


XL


Name
XL

How did you first hear about Midnight Ridazz and what was your first group bike ride?
I was sitting at home one night watching TV and being bored. I heard some shouts outside and watched as a large group of ridazz passed by my house. It seemed like a great thing to do so I jumped on the internet and found "MidnightRidazz.com". My first ride was March 1, 1998 with the Los Angelopes. I almost died, but had the best time ever on my bike.

Currently what rides do you attend regularly and what ride(s) would you like to see make a comeback?
I attend Taco Tuesdays every Tuesday (at least until #100), occasionally I make it to Mom Ridazz OG Saturday ride. I cannot wait for the Pier Pressure season to begin and would also like to see more Los Angelopes rides posted

What advice would you pass on to new ridazz?
Please read the "Rulezz of the Ride" at the bottom of the MR page.

If you were leading a group ride, what would you do differently?
We try new things to make the Taco Tuesdays better each week.

Do you prefer small rides (30 or less people) or larger rides and why?
Most of the time I prefer larger rides and meeting new and interesting people/ridazz, but a smaller ride can totally be a tribal bonding experience.

Tell us about the best and worst experience you've encountered on a group ride.
BEST = Los Angelopes, March 2008 started it all for me… and Los Angelopes May 2008 solidified my new obsession.

WORST = Gnarzilla in April 2008. I was fairly new to long rides and would check the postings for mileage and such before attending. An easy route starting in Burbank was posted, but the leaders totally went a different hardcore hilly route. A few friends and I ended up being left in Boyle Heights with no idea how to get back home.

What did you do for fun before you started "riding"?
Total barfly of the shadiest dive bars in LA.

What's the best and worst thing group bike rides have done for cycling as a whole in Los Angeles?
BEST - I think that group rides have provided (to many) an alternative to the average night of drinking at the local bar/club and then getting into a car, driving drunk around our beautiful city and possibly killing someone or themselves.

WORST – I don't think group rides in Los Angeles have had any substantial negative impact on our city. The only thing that has happened is that a few drivers may have to take a few extra minutes out of their days once in a while to keep our groups together and safe. If you think that is too much to ask, please get over your road rage and ride a bike.

If you can name 1 person who embodies the spirit of "Midnight Ridazz", Who would it be and Why?
Not to be too biased, but Cesar embodies the total spirit of MR to me. He is always the first person to wait for others, give whatever material possessions to help other ridazz, provides great music to the group (he dreamt of building a sound bike after his first ride), and always comes with a great attitude for the ride.

What do you think the public's perception is of group bike rides?
In general, I think the public likes and are intrigued by the concept of group rides. The more positive videos and life stories that are generated from people being exposed into the world of cycling by seeing or starting with a group ride

Is there anything else you'd like to add?
I think Midnight Ridazz opens up a whole new world of people to cycling. I remember thinking that cycling for just for people who wore spandex and rode in neat little lines as fast as they could. I now realize how healthy, fun, adventurous, exciting, and life changing cycling around the streets of Los Angeles can really be. Thank you Midnight Ridazz, RIDE ON!












Posted by barleye