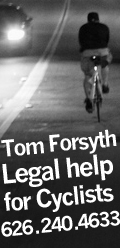 Ridazz Roulette!





ANGRYTOASTER

03.9.10


ANGRYTOASTER



What's your name (optional) and/or your Midnight Ridazz log-in name?
John, login is :angrytoaster

How did you first hear about Midnight Ridazz and what was your first group bike ride?
I haven't the slightest clue. I think I remember hearing some false rumors about Taco Tuesdays ''meeting up at Del Taco on Tuesday at 4 and riding for an hour'' and was intrigued. Taco Tuesday, however, turned out to be the coolest thing on two wheels, involving toilet paper soccer and the mandatory 3-4am stop at Cinco de Mayo.

Currently what rides do you attend regularly and what ride(s) would you like to see make a comeback?
None :( Moving this week). Hope to be back soon and would love to have that little Monday night Hawthorne ride back that went for a bit and went away.

What advice would you pass on to new ridazz?
Tubes. Levers. Pump.
And of course, know your alcohol\drug limits and don't make yourself so gone that somebody has to watch you.

If you were leading a group ride, what would you do differently?
Critical Mass style! No leaders!

Do you prefer small rides (30 or less people) or larger rides and why?
Smaller rides are more of a party. Larger rides are better statements.

Tell us about the best and worst experience you've encountered on a group ride.
Best: On a ride last summer, I was helping this kid fix his flat and talking with him, but had left my bike in a dark little corner unatteneded (doh). I started to freak out when I looked over to see it missing, but this kid tapped me on the shoulder and had my bike. His seat post clamp gave way earlier in the night and in turn, his post shot down and seat flew off so he couldn't ride and I stopped off to help him fix it. I guess he had remembered my bike and brought it over because he said he saw some shady looking characters eyeing it up. I thought that this was pretty awesome, among the billions of other cool memories.

Worst: Seeing Andres get hit by that hummer and those guys drive away over bikes\people.

What did you do for fun before you started "riding"?
Good question..homework?

What's the best and worst thing group bike rides have done for cycling as a whole in Los Angeles?
Best: Given people a reason to get out on their bikes, empowered carless people who thought it was too dangerous to commute.

Worst: Given the impression that it's OK for group rides to blow red lights.

If you can name 1 person who embodies the spirit of "Midnight Ridazz", Who would it be and Why?
Matt Stilline\Simmons. The guy who taught me how to fix a flat\broke my glasses\put my first fixed gear together\drank a whole bottle of ketchup. Matt's awesome, and always comes prepared to fix anybody's stuff that may break whether he knows them or not.
Also responsible for: Making the fixed gear tall bike cool.

What do you think the public's perception is of group bike rides?
''Get a car hippies!''

Is there anything else you'd like to add?
I'll miss you guys. Hope to be back soon.













Posted by barleye