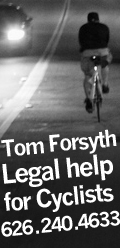 Ridazz Roulette!





RICHTOTHEIE

03.6.10


RICHTOTHEIE



What's your name and/or your Midnight Ridazz log-in name?
Richtotheie

How did you first hear about Midnight Ridazz and what was your first group bike ride?
I had heard about Midnight Ridazz from a local bike shop in Marina Del Rey. I had done some research and looked at all the pictures on the site. Completely blown away, I couldn't wait to join in on the fun. When I finally had free time, I made it to my first ride on my Trek VRX200 Full-suspension mountain bike. No, I don't mountain bike, it just happened to be my whip since 8th grade. My first ride was Wolfpack's very first as well. I never got dropped and rode with them for about six rides with the mountain bike. That's when I got a road bike.

Currently what rides do you attend regularly and what ride(s) would you like to see make a comeback?
I don't regularly go on any rides anymore since my passion for photography and videography has really taken over, but all I can say is that C.R.A.N.K. MOB will be the only ride that I will never miss if I don't have to. Especially since the ride has some special plans this year.

What advice would you pass on to new ridazz?
The BEST possible advice is to learn to have fun while making sure you do not endanger ANYONE else ... this means everyone. These rides are opportunities to let yourself go and have the most fun you've EVER had EVERY night, which doesn't mean vandalizing, stealing or any of that other SHIT. We are so much higher than that!

If you were leading a group ride, what would you do differently?
If I "were"? Lets change this to what my ideal ride would include:
A group of people to manage the ride all connected with walkies and headpieces. A central sound system with radio transmission capability for all other music systems to play in sync with. Live bands, venues to house us, and just positive energy all around. I only want people there that are looking to have a good time.

Do you prefer small rides (30 people or less) or larger rides, and why?
I prefer up to 200 people. It's just enough to meet new faces throughout the night while still feeling intimate.

Tell us about the best and worst experience you've encountered on a group ride.
The best? C.R.A.N.K. MOB—LAPD rolled up on us and as we began to start leaving, the officer told us to wait up and that he was a biker too! He got out, grabbed a fixie, and put it on the roof of the squad car!! We all chanted and partied and he left with a huge smile and demanded us to have safe fun. EPIC!

The worst? I'm pretty sure I've erased this section in my mind.

What did you do for fun before you started "riding"?
There was no fun before "riding".

What's the best and worst thing group bike rides have done for cycling as a whole in Los Angeles?
Wow. Best: It gets biking as an activity out there! The numbers of bikers are rising exponentially (I feel) and I think it has mostly to do with large bike rides.
Worst: Crowds of immature kids coming into this scene with no respect for others. It kills me and gives us all a bad name.

If you can name one person who embodies the spirit of Midnight Ridazz,who would it be and why?
Wow...that is really fucking hard but I'd have to say Coe coe Butta. Why? She has been a nonstop supporter of rides and the people who take part in them—always lending a hand and never saying "no" to an idea. This warm and tenderly fun-loving spirit is what Midnight Ridazz is to me.

What do you think the public's perception is of group bike rides?
Most likely: "College kids partying on bikes. Fucking crazy hooligans."

Is there anything else you'd like to add?
F.U.N. is coming back. ARE MIDNIGHT RIDAZZ READY!?!?!?!?!!























Posted by barleye