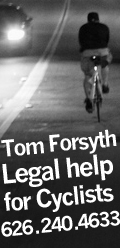 Ridazz Roulette!





STILLLINE

03.5.10


STILLLINE





What's your name (optional) and/or your Midnight Ridazz log-in name?

My name is Matthew Simmons. Some people call me Stillline because that's my MR Log-in.



How did you first hear about Midnight Ridazz and what was your first group bike ride?

I heard about MR through some friends but my first real impression of what it was about came from seeing a large ride pass down Sunset Blvd near my old house in Silverlake (before I was riding). It was an amazing site and I was immediately trying to find out how I could join the ride. My road-bike had been stolen a few weeks prior so I had to get another bike first. I ended up getting an old Bianchi from a used bike shop in Toronto while i was traveling for work. I think I paid like $300 dollars to ship a $120 road bike back to LA but I was dead-set on having something to ride on the PillowFight Ride.



Currently what rides do you attend regularly and what ride(s) would you like to see make a comeback?

I'm a big fan of Taco Tuesdays, I think its the best weekly ride in town. The best monthly ride has to be Ride With No Name, However the coolest shit on MR right now is Bike Polo...... specifically the games in NOHO and DTLA. I would love to see a comeback from the ORIGINAL Chill Chinatown Mosey and I really miss the old days of Sins And Sprockets.



What advice would you pass on to new ridazz?

I would tell a first time rider to make sure their bike was in good shape before they go out. It sucks to break-down on your first ride.



Also most important is just fucking pay attention. The spectacle of the ride can be distracting and that's how a lot of new riders end up crossing wheels and riding in ambulances.



If you were leading a group ride, what would you do differently?

If I was leading a ride I would try to yell less and talk more. People are always screaming at the fast riders to slow down but it never works. If you simply ride up and say "hey guys we're gonna go a little slower and we're turning soon" they tend to react better because they feel informed and included instead of scolded and excluded. If they keep going too fast even after some nice conversation I would just turn the ride and let them get lost on their own.



Do you prefer small rides (30 or less people) or larger rides and why?

Smaller rides tend to be more intimate and easier to handle. There's a lot less waiting at lights and way fewer mechanical problems. Also the cops don't seem to get so aggro with the smaller rides.



However there's nothing like seeing a street packed shoulder to shoulder with cyclists or a circle of death on Hollywood and Highland.



Tell us about the best and worst experience you've encountered on a group ride.

The worst thing on the rides is the stealing and the Tagging. It really burns our bridges with the communities we ride in and generates a lot of police radio traffic which really makes it hard to have a huge Crank Mob style ride these days.



What did you do for fun before you started "riding"?

I went to work, the movies and the bar. It was pretty boring but I did live in Germany for a year in college and rode an old Hollander Bicycle all over wet cobblestone streets. Cycling wasn't something new there...everyone just did it because they couldn't afford a car or even the subway. It was awesome.



What's the best and worst thing group bike rides have done for cycling as a whole in Los Angeles?

Best: It created something to do in Los Angeles that doesn't involve cars or standing in line.



Worst: Dan Berlant, I hate Dan Berlant.



If you can name 1 person who embodies the spirit of "Midnight Ridazz", Who would it be and Why?

There's a lot of people that fit the bill but if I was forced to name one it would have to be RichtoTheIE because the rides he leads are always fun and wild and silly. My favorite ride ever was the PillowFight Ride #1 and it was also my first second friday ride. Those are the types of rides that make MR great and I've spent many mornings riding down Venice blvd at 7am after Crank Mob and I think it's something I'll always remember.



What do you think the public's perception is of group bike rides?

The "Public" is made up of many individuals with many different viewpoints But I would say its usually either "Holy shit that's awesome I wanna go too!" or "What a bunch of wasters, why don't you just get a job and get the hell out of the way I'm trying to drive here hippie."



Is there anything else you'd like to add?

Yeah just thanks to Brad for always bringing the music (and the suck) to DTLA Polo.



























Posted by barleye