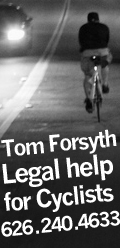 Ridazz Roulette!





DEESIMPLE

03.5.10




DEESIMPLE





What's your name (optional) and/or your Midnight Ridazz log-in name?

Dany /Deesimple/Dee



How did you first hear about Midnight Ridazz and what was your first group bike ride?

Back in July of 06 while outside House of Spirits in Echo Park. I saw everyone meeting up and I finally borrowed my neighbors bike for "Pizza Delivery " ride.



Currently what rides do you attend regularly and what ride(s) would you like to see make a comeback?

I haven't done the group ride scene in a while. I want to get out to RWNN. Miss Sins&Sprockets, 2nd Friday MR ride, Speedybrian's valley rides.



What advice would you pass on to new ridazz?

Your first rides will be some of your most memorable. Enjoy them..



If you were leading a group ride, what would you do differently?

I've led a few and wouldn't change a thing. The good and bad make it a good story.



Do you prefer small rides (30 or less people) or larger rides and why?

Both.



Tell us about the best and worst experience you've encountered on a group ride.

Best= Too many..Memorable would be

*Ending up in downtown after an MR ride, outside Grand Central Market, dancing at La Cita and drinking till 6AM with the "core elite" crew. Many sleeping on sidewalk till red line opened up. haha.. Still can't figure out where Sexy got a case of Budweiser from that night.

*Riding thru rain on Heavy Metal ride.

*Trying to keep up with beer line at Toy Ride..

*Always riding with my bottle of Henessey in my back pocket, riding thru downtown and seeing smiles all around.

*Chillin' on 4th street bridge with BBD and the system.

*Riding to SF and getting high from second hand smoke.

*SD rides



Worst=Crashing on Noche Ride, watching Mom rider crash, so anything with someone getting hurt.



What did you do for fun before you started "riding"?

Had too many tacos and beers at the Gold Room..



What's the best and worst thing group bike rides have done for cycling as a whole in Los Angeles?

Allowed many of us to meet people whom otherwise we would not have met on our own.It allows you to simmer in deeper layers within the LA melting pot. It also creates awareness for sure. Group rides have planted seeds all over LA and is interesting to see the fruits and weeds that are growing. I've seen people come out of their cocoon and flourish into creative beings because of the support and free mined sense of community. That's powerful.



Worst= Made bikes on craigslist more expensive for me..



If you can name 1 person who embodies the spirit of "Midnight Ridazz", Who would it be and Why?

Besides the skull logo..Wow...there's quite a few...would be unfair if I only name one..I am biased and partial to the classic crew. Those that were riding and putting in work when there was only a handful of rides a month to look forward to and are still out there now. Those who own a Noche De Los Muertos shirt are good in my books.



What do you think the public's perception is of group bike rides?

Depends on the group..overall positive perception but they are still ignorant to the fact that they are welcome to join in..so next time take a minute to open up and recruit a rider.



Is there anything else you'd like to add?

Ride On!












Posted by barleye