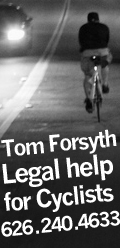 Ridazz Roulette!





BLACKOUT BLACKLUNG

03.5.10


BLACKOUT BLACKLUNG




What's your name (optional) and/or your Midnight Ridazz log-in name?
Brian A.KA Blackout_Blacklung or Brick

How did you first hear about Midnight Ridazz and what was your first group bike ride?
My friend Joe took me to my first ride in like 07. It was the "I Love My Bike Ride" or "The Slowest Race" at least that's what it said on the spoke card. I remember riding up the hill on Glendale trying to get to the park to meet everyone. I rode to the top of the hill and wanted to die, but once we got there and I felt the energy and met so many cool people I was ready to go. We did like 18 miles or so that night and ended at Footies. I thought we were just stopping again but the ride was over and I couldn't believe I had made it 18 miles and still wanted more.

Currently what rides do you attend regularly and what ride(s) would you like to see make a comeback?
I don't really do many rides anymore, I just play bike polo on Thursdays and Sundays. I will never miss a dice run and I really wish Sins and Sprockets would come back.

What advice would you pass on to new ridazz?
Make friends, have fun, and stay to the right.

If you were leading a group ride, what would you do differently?
That's a hard question to answer. I've always wanted to plan a ride but I don't want to be responsible for people and their actions. I think there could be some way better planing on a few rides, but really my hat is off to anyone who steps up and takes the reins

Do you prefer small rides (30 or less people) or larger rides and why?
Normally there is less drama with the 30 or less people rides.

Tell us about the best and worst experience you've encountered on a group ride.
My best and worst experience is one and the same. It would be riding up to Angeles point on a mosey, and stay the night up there with all the other freezing drunk riders who crashed up there too. Great night, great friends, shitty concrete and a thin blanket to sleep on.

What did you do for fun before you started "riding"?
I played in a "punk" band called Not Born yesterday and drank way more then I do now.



What's the best and worst thing group bike rides have done for cycling as a whole in Los Angeles?
The group rides have gotten more people on bikes, but they have also gotten more thoughtless brakeless assholes on bikes too.(Not all brakeless riders are assholes....just most)

If you can name 1 person who embodies the spirit of "Midnight Ridazz", Who would it be and Why?
Matt Simmons (Stilline):He is crazy, always ready to help with a bike, or help you finish your drink.

What do you think the public's perception is of group bike rides?
To them we are everything bad about bikes on public streets.

Is there anything else you'd like to add?
Stop stealing, stop tagging, give as much to this scene as you take.











Posted by barleye