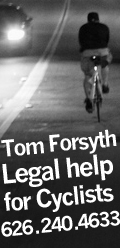 Ridazz Roulette!





SPIRALDEMON

03.5.10


SPIRALDEMON


What's your name (optional) and/or your Midnight Ridazz log-in name?
Spiraldemon

How did you first hear about Midnight Ridazz and what was your first group bike ride?
My first ride was Atomic Cycle's Pedal 'n Pub Crawl shortly after moving to the 818. Ironically, at the time neither I nor the organizer drank alcohol. I just wanted to ride and meet people. On the ride, I met a couple who mentioned Midnight Ridazz. My first Ridazz event was June '06, the Sell-out ride, estimated to be well over a thousand people. It was like crack, and I was instantly hooked.

Currently what rides do you attend regularly and what ride(s) would you like to see make a comeback?
I don't attend any organized group rides regularly. I'd like to see Cruz With Us make a comeback, I used to attend that one religiously.

What advice would you pass on to new ridazz?
Don't cause trouble.

If you were leading a group ride, what would you do differently?
Take more side streets.

Do you prefer small rides (30 people or less) or larger rides, and why?
Small rides, because there's more chance to meet people

Tell us about the best and worst experience you've encountered on a group ride.
Best: meeting so many people

Worst: stuff stolen, people injured

What did you do for fun before you started "riding"?
I've always been on two wheels, and I still ride motorcycles. The one car I've owned got stolen and stripped for parts.

What's the best and worst thing group bike rides have done for cycling as a whole in Los Angeles?
Best: bicycle awareness

Worst: group rides are now associated with drinking and smoking out

If you can name 1 person who embodies the spirit of Midnight Ridazz, who would it be and why?
The person who rides to work and for daily errands. There's nothing more serious than using your bicycle as a utilitarian, everyday tool.

What do you think the public's perception is of group bike rides?
Lawless kids with nothing better to contribute to society than getting fucked up on bikes.

Is there anything else you'd like to add?
Ride On!














Posted by barleye