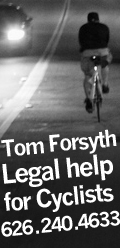 Ridazz Roulette!





GIZZARD

03.4.10


GIZZARD



Whatís your name (optional) and/or your Midnight Ridazz log-in name?

Bertha/Gizzard.



How did you first hear about Midnight Ridazz and what was your first group bike ride?

A co-worker told me about the site. The following Friday I decided to take my super-heavy mountain bike to LACM (Apr. 2009). There I met Chynna, Ray and July (before they called themselves Cruss Mob). I loved seeing how they were true to the "no rida left behind" motto. I immediately fell in love with the community!



Currently what rides do you attend regularly and what ride(s) would you like to see make a comeback?

I TRY to frequent RWNN, Barchopz, The Passage, 2nd Fridays and anything else I have time for when work and school donít have me by the balls. :(



What advice would you pass on to new ridazz?

I'm still fairly a new rida but I guess it would be to treat it like grade school; use common sense, follow the golden rule, make friends and watch out for one another. <3



If you were leading a group ride, what would you do differently?

I wouldnít change anything. Each person has their own style. Thatís what makes this community beautiful.



Do you prefer small rides (30 or less people) or larger rides and why?

I like both. Small groups are always nice and intimate, but riding in a large group and seeing hundreds of blinking red lights in front of you and a hundred more ridazz behind you is a beautifully breathtaking sight!



Tell us about the best and worst experience youíve encountered on a group ride.

So far my greatest experience was at the last [Chill Chinatown] Mosey. Hanging out at the top of Angels Point with 30 (or so) others; joking, drinking, dancing, cuddle puddling and watching the sun rise.



The worst experience is seeing people get hurt.



What did you do for fun before you started ďridingĒ?

I would divide my time between reading, writing, dancing and running. I still do those things, but riding is now at the top of the list.



Whatís the best and worst thing group bike rides have done for cycling as a whole in Los Angeles?

The best thing would have to be the close-knit community within one of the hugest cities in the world. Itís awesome to see so many bicycle-related events in a city that depends on cars for everything!

The worst thing is seeing people fight with one another over bullshit, steal from one another and just straight up disrespect. Weíre all ridazz. Weíre all family.



If you can name 1 person who embodies the spirit of ďMidnight RidazzĒ, Who would it be and Why?

I canít pin point just ONE! Thereís been too many amazing people that Iíve met through Midnight Ridazz and they all contribute to the spirit. Whether itís helping out to change a flat, sparing one of their beers/cigs, providing great tunes, not leaving ridazz behind or STILL being a friend when youíre not on a bike. Thanks guys! <3



What do you think the publicís perception is of group bike rides?

Itís hard to say. Itís the same way we view motorists when weíre riding. Iím sure half of the public thinks itís awesome and the other half thinks weíre assholes.



Is there anything else youíd like to add?

Iím gonna get a bit sentimental for a second. Like many of you, I wasnít raised in LA and I donít have family here. Since I started riding Iíve met so many amazing people who have offered up their homes, hearts and time. Not a day goes by that I donít give thanks for meeting each and every one of you!


















Posted by barleye