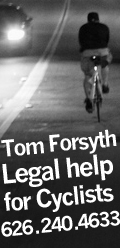 Ridazz Roulette!





SHUES

03.4.10


SHUES



Whatís your name (optional) and/or your Midnight Ridazz log-in name?
Shues.

How did you first hear about Midnight Ridazz and what was your first group bike ride?
I first heard of MR from someone who came in to my work in Long Beach, they saw my bike and asked if I had ever heard of MR and I was like WTF no, and so it began. My first group ride was SMCM, during its prime.

Currently what rides do you attend regularly and what ride(s) would you like to see make a comeback?
I make it out to the Westside Mosey often and sometimes the TT, but not as much as I'd like. I ride a lot alone or with a few ridazz. I would love to see a big return of Six Pack Mondays or the infamous mosey in DTLA címon Steph you know you wanna!!!

What advice would you pass on to new ridazz?
HOLD YOUR LINE! no Iím kidding, except not. try not to get too fucked up, I mean youíre still on a bike and you CAN get seriously injured, donít push your self until you know you can handle it, and get a brake if youíre new to riding, itís not that cool to lean over your handlebars, in fact its scary. But in the end have fun and meet new people.

If you were leading a group ride, what would you do differently?
SAFE MOB!!!

Do you prefer small rides (30 or less people) or larger rides and why?
I like intimate rides, but who doesnít love a crank mob with a 1000 people taking over the roads. I guess it just depends on the people on the rides that make it for me.

Tell us about the best and worst experience youíve encountered on a group ride.
The best has been on ROBOTZ for sure, those rides are fast and exciting cause you never know where your going to go. I love RWNN and the places it takes me, ROGUE for the beer and the hills, CRANK will never get old and full of so much jousting and mini biking. I hate going on rides and watching kids crash it just tears me up inside, also any ride involving lots of drugs is super depressing but I usually donít head out to those rides.

What did you do for fun before you started ďridingĒ?
BMX! I used to get drunk and ride around LBC all the time. I guess not much as changed.

Whatís the best and worst thing group bike rides have done for cycling as a whole in Los Angeles?
Best: opened the eyes of non riders and the public to the underground cycling community as a whole. showed people we are more then just computer geeks and cycling fanatics. we are a family that is just looking for space to grow.

Worst: some of us are bad apples and they steal and tag and rob and steal bikes and it allows for stereotypes and assuming and people will always do that but its up to us to change that about the scene. There is always hope. Where there is a will there is a way.

If you can name 1 person who embodies the spirit of ďMidnight RidazzĒ, Who would it be and Why?
Iím torn. I canít name one, maybe three: COCO, RICHIE, DAN BERLANT! (I still hate you)

What do you think the publicís perception is of group bike rides?
that we have no remorse for them getting home/to work on time, that we dont follow the rules of the road, that we party on bikes, that we societies scum, that we are grungy, punk, dirty, tall bike, welding, poor, rich, fun, FUN, fun, smelly, exciting, unpredictable, outgoing, helpful individuals just looking for a place to fit in.

Is there anything else youíd like to add?
RIDE ON!!













Posted by barleye