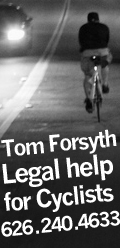 Ridazz Roulette!





COOLASSMIKE

03.4.10


COOLASSMIKE



What's your name (optional) and/or your Midnight Ridazz log-in name?
CoolassMike

How did you first hear about Midnight Ridazz and what was your first group bike ride?
I first heard about it from a messenger rider in Downtown LA (his name escapes me). My first "ride" was either the "Mosey" or a Midnight Ridazz" ride. My first event was an Alley Cat race which I filmed and documented.

Currently what rides do you attend regularly and what ride(s) would you like to see make a comeback?
The only rides I attend when I'm available are
1."TNS"
2."The Freedom Ride"
3."The Ride With No Name
4."LA Critical Mass"
6."MOM RIDAZ" rides

What advice would you pass on to new ridazz?
1. Go with the flow of the energy around you.
2. Don't Panic
3. KNOW what's going on around you
4. Ride hard!
5. Go where the car was...
6. RESPECT TRAFFIC

If you were leading a group ride, what would you do differently? Allocate ride parameters (speed, route, rest stops, and official corks)

Do you prefer small rides (30 or less people) or larger rides and why?
I prefer rides of 30 or less. There tends to be a faster pace. Fewer people to be concerned with keeping together. But I don't mind the big rides too. I like the new riders that come out!

Tell us about the best and worst experience you've encountered on a group ride.
The best experiences I have when riding is when there familiar and new faces around. No rogue riders causing trouble. And no flats!
Worst experience has to be getting a ticket in Santa Monica during a SM Critical Mass.

What did you do for fun before you started "riding"?
Played paintball and basketball.

What's the best and worst thing group bike rides have done for cycling as a whole in Los Angeles?
The best thing is the exposure to bikes and growth of the community as a whole.

A negative thing is the exposure of some people to open streets who aren't ready for being left behind.

If you can name 1 person who embodies the spirit of "Midnight Ridazz", Who would it be and Why?
Matthew Simmons

What do you think the public's perception is of group bike rides?
A bunch of road hawgs!

Is there anything else you'd like to add?
ALWAYS RESPECT THE CARS!











Posted by barleye