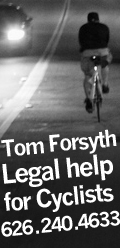 Ridazz Roulette!





SPOOK

02.26.10


SPOOK




What's your name (optional) and/or your Midnight Ridazz log-in name?
SP00K

How did you first hear about Midnight Ridazz and what was your first group bike ride?
I first learned of the Midnight Ridazz when I stumbled upon the huge crowd during the first Swarm the Pier ride.

Currently what rides do you attend regularly and what ride(s) would you like to see make a comeback?
I miss the original Los Angelopes and Cubcamp rides and crew. The Westsidazz rides were fun, too.

What advice would you pass on to new ridazz?
Hold your liquor. Hold your Trash. And hold your fucking line. Also, quit doing "fixie tricks" in front of the tallbikes.

If you were leading a group ride, what would you do differently?
I would try to organize a much smaller ride, emphasizing the social nature of the experience.

Do you prefer small rides (30 or less people) or larger rides and why?
I like a balance of the two. Small rides can be fun and intimate, but you just don't get the adrenaline of riding in a group a thousand deep.

Tell us about the best and worst experience you've encountered on a group ride.
Best experience on a ride has to be when I met my wife. It was during the Clown Ride back in '07. Also, bringing my older brother on a CRANK Mob and seeing his mind blown was pretty memorable. However, there have been a couple of CRANK Mob rides that left bad impressions with me and made me not want to participate. Mainly due to the younger, inexperienced Ridazz.

What did you do for fun before you started "riding"?
I rode alone, haha. I rode my bike for about six months before I realized there was a bike "scene". After that, I was hooked.

What's the best and worst thing group bike rides have done for cycling as a whole in Los Angeles?
Best thing is the promotion of cycling as a fun activity not necessarily limited to Sunday afternoons. Worst thing would be the increasing clashes between cyclists and motorists.

If you can name 1 person who embodies the spirit of "Midnight Ridazz", Who would it be and Why?
Many names come to mind, but one that especially stands out is Richie. Between his multitudes of "Boxes", his flamboyantly awesome costumes and Kabuki Sky, his esprit de corp cannot be matched.

What do you think the public's perception is of group bike rides?
"public" is term for non-Ridazz, I think that their emotions vary. Some people are infuriated that they have to wait at a stop light for another 20 seconds, and then some totally freak out and want to join on the spot.

Is there anything else you'd like to add?
BRING BACK IBIKEU!!










Posted by barleye