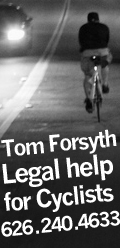 Ridazz Roulette!





0gravity

02.26.10


0gravity





What's your name (optional) and/or your Midnight Ridazz log-in name?
I'm Jesse offline and 0gravity here

How did you first hear about Midnight Ridazz and what was your first group bike ride?
I first heard about MR from Alex Thompson when he was manning a bike booth at a festival at the park on Ocean Park. He was missing a front tooth from a bike accident. I figured this was a guy I should take biking advice from. He told me about Santa Monica critical mass, which ended up being my first ride. Had a blast and kept all my teeth.

Currently what rides do you attend regularly and what ride(s) would you like to see make a comeback?
I'm off and on, spotty about what rides I do. Sometimes too lazy to go from the Westside to rides downtown-ish. I'd like to see another prom night ride! That was fun getting a gaudy orange too-small Goodwill suit and rolling with my crew.

What advice would you pass on to new ridazz?
Respect and humility. We've created this monster -- and it's a great thing -- but we've gotta keep a reign on some of the bad elements that creep in; people getting too wasted and crashing all over the place, people coming out just to be punks, being too aggro to cars, leaving trash. 99% of ridazz are chill but that 1% can give the whole ride a bad rep. So call people out if you see shit. The Law has largely looked the other way because they have bigger problems on any given night. So let's keep it that way and not give them a reason to come down hard on our rides. And every car that we're assholes to at night is potentially a car that runs us off the road during our commute the next day.

Oh…and a little pet peeve. A talented fixie rider is a beautiful thing. But if you just got a fixie, learn to ride the damn thing (and not on sidewalks) before you come out on a ride. I've seen too many newbie fixters eat shit on downhills and take other ridazz out.

If you were leading a group ride, what would you do differently?
Never led one so I dunno. Something small and fast.

Do you prefer small rides (30 or less people) or larger rides and why?
Both are good. I love huge sprawling rides for the whole crazy scene. But some of the best rides I've been on have also been small ones like Cubcamp where we jam fast and it's intimate enough to get to know a bunch of the riders.

Tell us about the best and worst experience you've encountered on a group ride.
BEST: They're all so good, and there's a bit of haze between which were some of the best. Among them would be the impromptu dance party at a 711 parking lot on Santa Monica when someone in a pickup truck got all into it and let about 20 ridazz dance on every available inch of his truck. Naked guy dancing too!! (link to vid? http://www.youtube.com/watch?v=q2Ww6DQEdN0) That video sums it up.

WORST: This is hardly a "worst" thing but I was really conflicted after one of the Santa Monica critical mass rides. I loved it for all the obvious reasons, but that night a big section of freeway somewhere Westside was shut down because of a big rig roll-over and it sent a HUGE mass of cars into Santa Monica the night of our ride. It was the worst traffic jam I've ever seen. Cars were going absolutely nowhere and we made it a lot worse. People just wanted to get home and most were REALLY pissed at us, some yelling crap. We didn't make any friends and I doubt any converts to the biking lifestyle. Some might say that's a prefect night to take over the roads by bike, I'm not so sure.

What did you do for fun before you started "riding"?
Tons of other riding, both road biking and mountain biking. I was psyched when I first moved here to find the Santa Monicas have some really good mountain biking right here near the city.

What's the best and worst thing group bike rides have done for cycling as a whole in Los Angeles?
BEST: They've made riding bikes cool again. So many new people are getting into riding, both for a fun free thing to do at night, but they're also probably thinking twice the next day whether they need to take a car or take a bike on their commute, or running an errand.

If you can name 1 person who embodies the spirit of "Midnight Ridazz", Who would it be and Why?
Alex Thompson. He's been a core MR since who knows when. And he's stepped it up hugely with his work getting Bikrowave up and running and now putting big efforts into bicycle advocacy. AT for LA Mayor!!

What do you think the public's perception is of group bike rides?
Tough question. Most of the public is indifferent. A lot wonder who these crazies are and where can I get me a piece of that action. Then there's probably a decent number of people that have been inconvenienced by a big ride and hold a grudge, or think bikes belong on sidewalks. But there will always be haters and ignorant people.

Is there anything else you'd like to add?
I'm moving to Atlanta this fall. I'll miss MR a lot. So glad it was a part of my LA experience. Maybe I can find something like it out there.






Posted by barleye