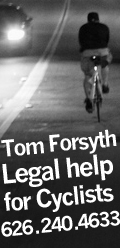 Ridazz Roulette!





MOONDANCE

02.26.10


MOONDANCE



What's your name (optional) and/or your Midnight Ridazz log-in name?
Hanako Moondance. Handle: moondance

How did you first hear about Midnight Ridazz and what was your first group bike ride?
My first group ride was Santa Monica Critical Mass in October of 2007. I first heard about Midnight Ridazz after riding with people on the westside for SMCM and C.R.A.N.K. MOB

Currently what rides do you attend regularly and what ride(s) would you like to see make a comeback?
I most regularly attend the Westside Mosey, and most impromptu rides that are on the westside. Also any rides that are in celebration of FWIENDS. I would love to have a comeback or reemergence of exploratory rides such as R0B0TZZZ or Bear Cavalry. Also some Friends of the Friendless in the mix.

What advice would you pass on to new ridazz?
To be open to the cycling experience. Whether its riding to an area you have not been to or having a more experienced rider giving tips to how to ride more efficiently and safely. I learned how to be a better rider by going out and riding with people who knew how to do it.

If you were leading a group ride, what would you do differently?
Depends on the ride. But possibly making the information about the ride (the route, the purpose) being made known to all that attend so the ride is made by all and I am only a facilitator (This doesn't exactly differ from what some people do)

Do you prefer small rides (30 or less people) or larger rides and why?
Depends on my mood. Small rides are preferable because I may know more of the people there, and if I don't it becomes much easier to meet those who are new. It is also easier to communicate what is happening in a ride to a smaller group. Larger rides are interesting too because there are so many people from so many different areas. Also the larger group mentality creates an adventure within itself (for better or for worse).

Tell us about the best and worst experience you've encountered on a group ride.
Best is the solidarity found in a group ride. Any ride where I've been out and I see other ridazz helping each other, finding common ground with bikes is always a positive experience.

The worst is when that is taken to an extreme and people become overly aggressive within the group. I am not a fan of those who weave within the group not taking into consideration the different levels of ridazz in the group. Also those who go head to head with motorists when it is not necessary. Though I think it is important to stand our ground and be noticed to maximize safety when riding, it is still a multi-modal community and we, as well as everyone else, need to respect the way that people choose to move around this city.

I personally found that support when I was riding with LA ridazz in New York in October 2008 and I was doored. Had I not been with other ridazz I am not sure how I would feel about biking now, but because they were there for me and helped me in that situation I was back on a bike 3 days after the accident. I still love every minute.

What did you do for fun before you started "riding"?
Hung out more often in bars or house parties. Exploring the city not on bike (so usually from one destination to the next and not running into by chance anything in between).

What's the best and worst thing group bike rides have done for cycling as a whole in Los Angeles?
The best thing that group bike rides has done for LA cycling is making it more and more possible and accessible for those who thought they couldn't bike in LA. I am a better and safer rider because I was surrounded with people who were supportive of me and helped me build my skills.

The worst thing would be related to the worst thing about group rides. Those who choose to ignore that there are many people moving around the city in many different ways. Its about respect.

If you can name 1 person who embodies the spirit of "Midnight Ridazz", Who would it be and Why?
Borfo. Even if he is not putting on an event or if for any reason he can't attend, he gives his support to the community 100% and then some.

What do you think the public's perception is of group bike rides?
It is mixed, but I think it always involves a bit of fascination. I speak to people about riding around the city and they find it brave and sometimes stupid to move around with cars, or frustrating due to experiences they have had being put off by cyclists, or interesting how bikes as a mode of transportation has connected so many on a social level.

Is there anything else you'd like to add?
If its a bike its my style.



















Posted by barleye