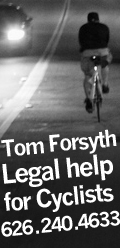 Ridazz Roulette!





STEVO4

02.26.10


STEVO4



What's your name (optional) and/or your Midnight Ridazz log-in name?
Stevo4

How did you first hear about Midnight Ridazz and what was your first group bike ride?
Den Dinner at Richie's Box.

Currently what rides do you attend regularly and what ride(s) would you like to see make a comeback?
RWNN.

What advice would you pass on to new ridazz?
Hold your line, leave no trace, ride in away that other motorists will cheer us on, not piss them off.

If you were leading a group ride, what would you do differently?
Nothing really.

Do you prefer small rides (30 or less people) or larger rides and why?
Presently, i prefer the smaller rides with people i know. The large rides are great but there is too much disrespect for the ride and community lately.

Tell us about the best and worst experience you've encountered on a group ride.
Best experience was when people were going on rides and several years ago and were a much tighter and responsible community. Sadly, its deteriorated and some of the magic of the scene has disappeared.

What did you do for fun before you started "riding"?
Rock Photography at night. That stopped immediately when i started riding bikes at night.

What's the best and worst thing group bike rides have done for cycling as a whole in Los Angeles?
Best thing: Gotten people out of the house, out of their cars and joined the love and world of Midnight Ridazz.

Worst thing: Pissing off people in vehicles, the cops, etc. by riding on the wrong side of the road, improper corking, and other things that send the wrong message.

If you can name 1 person who embodies the spirit of "Midnight Ridazz", Who would it be and Why?
Borfo. Has the right attitude, knows the limit of fun and when it crosses the line.

What do you think the public's perception is of group bike rides?
Mixed (see above)

Is there anything else you'd like to add?
I really look forward to when the rides come full circle and gets back to what the founders originally started. The end.










Posted by barleye