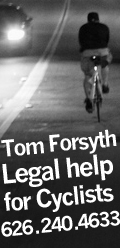 Ridazz Roulette!





BARRY

02.26.10


BARRY

****I want to preface this interview by saying I met Barry on his first ride and he's easily one of the coolest ridazz out there that I've met. Say hello to him next time you see him...

==barleye==
And here's Barry's story:


What's your name (optional) and/or your Midnight Ridazz log-in name?
Barry

How did you first hear about Midnight Ridazz and what was your first group bike ride?
I heard about it while reading a review of a bike shop. RWNN

Currently what rides do you attend regularly and what ride(s) would you like to see make a comeback?
Regularly, RWNN, sometimes, LACM

What advice would you pass on to new ridazz?
Follow the rules that are posted for that particular ride

If you were leading a group ride, what would you do differently?
Try to shame people who don't follow the rules

Do you prefer small rides (30 or less people) or larger rides and why?
I don't know because I have only been on large rides, however, the last RWNN that ended with only around 40 people because of the rain was kinda cool

Tell us about the best and worst experience you've encountered on a group ride.
The first group ride, you know they say that the first is always the best, that was the case with me, lots of energy. One LACM, route was boring, Wilshire Blvd for a good portion of the ride and no music.

What did you do for fun before you started "riding"?
Not much, worked around the house.

What's the best and worst thing group bike rides have done for cycling as a whole in Los Angeles?
Best - Energizes some people to get involved in cycling,

Worst - Giving cycling a bad name because of asshole riders who think they own the streets because they are riding in a group.

If you can name 1 person who embodies the spirit of "Midnight Ridazz", Who would it be and Why?
It"s hard to say because I don't know that many people, I guess because of the very fact that you sent out this email I would have to say you.

What do you think the public's perception is of group bike rides?
I really don't think the public knows or thinks about group bike rides until they encounter one. That first encounter is probably long lasting which is why we as riders have to be on our best behavior. Assholes, take note.

Is there anything else you'd like to add?
I think the idea about a leaderless ride like LACM in theory sounds great, but in actually it doesn't seem to work.










Posted by barleye