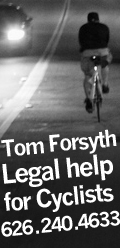 Ridazz Roulette!





JOE BORFO

02.26.10


JOE BORFO




What's your name (optional) and/or your Midnight Ridazz log-in name?
Reverend Joseph Hellvetika Borfo III, D.D., T.W.B.G., M.O.U.S.E., I.Y.M., .COM / Joe Borfo

How did you first hear about Midnight Ridazz and what was your first group bike ride?
In '05 my friend Paulo saw a big group ride coming down his street. He asked them who they were. They said, "Midnight Ridazz! Ride On!" He then called me and told me about it because he knew I liked bikes and thought I'd probably join.

My first ride was July in Winter in '05

Currently what rides do you attend regularly and what ride(s) would you like to see make a comeback?
2nd Friday Midnight Ridazz, Ride With No Name, The Passage, Barchopzz, and NELA Spoke 'n Art rides.
I would like to see Ride Arc make a come back.

What advice would you pass on to new ridazz?
Always carry a pump, extra tubes, levers, and a multi-tool. Don't be an asshole. Have Fun. Try organizing a group ride some day.

If you were leading a group ride, what would you do differently?
I have learned from experience on what works best for me. I make sure I have scouted the route before hand. I ask for people to help me hold the front of the ride from passing the music trailer or ride leader. I regroup often and stop at red lights when it is necessary. When leading large sized rides, the pace has to be chill- to normal in order to keep everyone together. Reward people with spoke cards at the end of a ride.

Do you prefer small rides (30 or less people) or larger rides and why?
I prefer small rides. It is more intimate and controlled. But, I do enjoy occasional large rides.

Tell us about the best and worst experience you've encountered on a group ride.
Best - Organizing a ride and seeing it go well.
Worst - Seeing someone you know get hurt.

What did you do for fun before you started "riding"?
I lit my own farts.

What's the best and worst thing group bike rides have done for cycling as a whole in Los Angeles?
It think that group rides inspire more people to try doing it. Not everyone likes and appreciates bike riding. Hopefully there will be more people on bikes in the future. I'd like to one day see LA become sort of like an Amsterdam for bike riding. It could happen. Try to commute by bike if you can.

If you can name 1 person who embodies the spirit of "Midnight Ridazz", Who would it be and Why?
Richtotheie. He is positive, he looks out for others, he puts on excellent ride events, he is innovative and adaptable, he is not afraid to be crazy and silly, and he knows how to have FUN....And Black Pantie Annie.

What do you think the public's perception is of group bike rides?
I think most people enjoy the fact that there are more people riding together in groups. There are a lot of people who are disappointed in how certain cyclist do not abide well to the rules of the road.

Is there anything else you'd like to add?
Ride On!








Posted by barleye