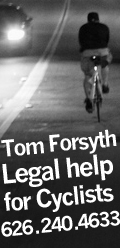 Ridazz Roulette!





DANNY ZUKO

02.26.10


DANNY ZUKO






What's your name (optional) and/or your Midnight Ridazz log-in name?
Danny Zuko

How did you first hear about Midnight Ridazz and what was your first group bike ride?
First heard of MR from LA Critical Mass first MR group ride was the one before or after the dada ride I don't even remember.

Currently what rides do you attend regularly and what ride(s) would you like to see make a comeback?
I try and make RWNN every week and the MR ride, would like to see Spoke n Dessent back

What advice would you pass on to new ridazz?
Bring tubes, lights and tools to the ride,

If you were leading a group ride, what would you do differently?
I'd not worry about things going as planned and embrace the chaos

Do you prefer small rides (30 or less people) or larger rides and why?
I like both

Tell us about the best and worst experience you've encountered on a group ride.
Best is dressing up as Frankfurter and riding through Hollywood and worst is well I don't remember having a worst, I've fallen but my friends stuck with me and took me to the ER and then home so it's wasn't a bad experience.

What did you do for fun before you started "riding"?
I don't remember

What's the best and worst thing group bike rides have done for cycling as a whole in Los Angeles?
Best is positive things like Burrito Project, Food not bombs, All City Toy Ride, Storm the Bastille, ArtWalks and support of Charity Rides like the LAPD and AIDS Lifecycle.The worst we have done is washed out by all of the positive, We have shown that cycling as a means of mass transit is a possibility for those that choose it.

If you can name 1 person who embodies the spirit of "Midnight Ridazz", Who would it be and Why?
I can't just as I can't just own one bike but here's my top list:
ChickenLeather, BigBikeDan, Laharr, Brassknuckles, JoeBorfo, Sexy, Limefly, RichietotheIE, Chynna, Tarmonster,

What do you think the public's perception is of group bike rides?
I don't care

Is there anything else you'd like to add?
Evolve!





Posted by barleye