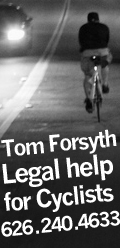 Ridazz Roulette!





Gustavo's Memorial Ride #2

01.16.10



01.16.10



Please join us in celebrating the life of our good family member, friend, and co-worker Gustavo Ramirez.



Meet at Lincoln Park in Long Beach. Corner of Pacific Ave and W. 1st St. in downtown Long Beach



The ride will meet at 8:00am leave promptly at 9am.



Please bring warm clothes since the ride is near the ocean and can be cold.



Helmets are strongly encouraged.



All traffic laws will be observed.



There may be riders that are not as experienced as others, so please bring along extra patches, tubes, etc. and be prepared to help those less experienced than yourself.



The ride route will approximate a favorite ride of Gustavo's. We will stop at the memorial and then finish his ride home to Belmont Shore.



Arrangements are being made by his family to go somewhere to eat after the ride. All are welcome. You can get details on the day of the ride or I will post them if I get them sooner.



The ride is mostly flat and the pace will be slow to medium with no rider left behind.



We will be stopping at the memorial for Gustavo for an indefinite time, so there will be a chance to say something if you would like.



The meeting point for the ride is across the street from the Metro Blue Line Transit Mall station. If you plan on driving there is paid parking at Lincoln Park. If you do not plan on riding, but would like to meet when the ride stops at the ghostcycle, there is parking at Shoreline Village. The ride will take about 30 minutes from the start to arrive at that point.



Here is the link to the route map. http://www.gmap-pedometer.com/?r=3402340



If you want the complete route description, here it is.



1. Meet at Lincoln Park (corner or Pacific Ave. and 1st St.)

2. South on Pacific Ave.

3. Left turn Ocean Blvd.

4. Right turn Pine Ave.

5. Right turn Shoreline Dr.

6. Left onto Queensway Bridge

7. Take right split on bridge and exit left onto Van Camp St. which turns into Harbor Dr.

8. Follow Harbor Dr. through intersection. Harbor Dr. turns into Queensway Dr after intersection.

9. Use bike path over Queensway Bridge

10. Right Shoreline Drive

11. Stop at memorial at Shoreline Dr. and Shoreline Village Dr.

12. Continue East on Shoreline Dr.

13. Right Ocean Ave.

14. Ocean Blvd. splits with Livingston stay right on Ocean

15. Left Bennett

16. Stop at Bennett Ave. and Division St.

Ride ends here.

Ride over to 2nd St. for those who will be having breakfast



To get back to the starting point, Head down to the bike path and it will take you all the way back to downtown Long Beach.

There is also a separate ride on Friday the 15th at 8:30pm. Some family and people close to Gustavo expressed concern about riding at night and preferred to ride during the daytime. Everyone is welcome to attend either ride or both. The routes will be the similar. The Friday ride will be longer. The family will definitely be at the memorial on Saturday.



Many thanks to everyone who helped put this together Jonahvan, Rob, Leslie, Rich, Neal, and Joe. If I missed anyone, I apologize.




Posted by enso23