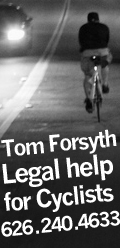 Ridazz Roulette!





Southbay Cruisers: The Creepy Cruise III

10.24.09


Creepy Cruise/Post Ride Barbecue/Bicycle Karaoke/Games!

WHAT: Our Third Annual Creepy Cruise!!!! We will cruise at an easy pace 8 - 10 miles through the
Southbay. We will end up where we

started at Valley Park in Hermosa Beach where we will barbecue/play games and karaoke! All types of
bikes and all levels of cyclists are

invited.



WHEN: Sat, Oct 24th, 2009 
Meet at 7:00PM/Ride at 7:15PM SHARP



WHERE: Ride starts and ends at the bonfire pit at Valley Park(Corner of Gould Ave/Valley Drive in
Hermosa Beach)



WHAT TO BRING: A LIGHT FOR YOUR BIKE-a costume is highly recommended but not required.
You don't need anything elaborate.

Look in your closet and find something, anything, be creative. If you want to eat at the post ride
barbecue then bring something to throw on

the barbecue. Got a game you want the group to play...bring it! Got some music you want to play on
the soul cycle...bring it!



THE RIDE, AS ALWAYS, IS FREE. $1 DONATION SUGGESTED FOR THE POST RIDE BARBECUE.
Covers charcoal, firewood and

other expenses.



See www.southbaycruisers.com for more info.








Posted by Wild Johnny