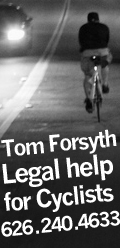 Ridazz Roulette!





PICS OR IT DIDN'T HAPPEN

05.9.09




PICS OR IT DIDN'T HAPPEN



Images from the LA BIKE SCENE

Date: Saturday, May 9, 2009

Time: 7:30pm - 11:30pm

Location: The Bike Oven / Flying Pigeon L.A.

Street: 3706-3714 N. Figueroa

City/Town: Los Angeles, CA



Come out and check out the fabulous photography and art produced in LA's bike culture. Select pieces will be available in exchange for donations to AIDS/LifeCycle. Amazing art by some of Los Angeles' most talented underground photographers will be available for your enjoyment and acquisition!



All proceeds benefit Team Midnight Ridazz's AIDS/LifeCycle Team, riding 545 miles to fight HIV! Come on out and support!



Vegan catering will be by DOOMIES home cookin' - that's right, LA's famous vegan comfort food master will be doing his thing right here.



Tell your friends who are into photography, art, bikes or vegan noms! BUT ESPECIALLY BIKES! omg.



Spread the word on Facebook



email captain+artsubs@teammidnightridazz.org for art submissions!



* there will be a ride to this event! details to follow!









Posted by ephemerae