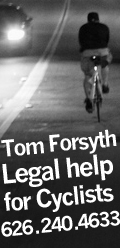 Ridazz Roulette!





Midnight Ridazz Takes No Prisoners

08.11.06


All hands hoay! Skull's goin' on account the comin' Friday, the 11th of fair

August. Avast ye! Scuttle yer regular gathering spot! We'll be sailin'
instead from

the olde fountain at Los Feliz and Riverside Dr. Weigh anchor at 9:30
pm, cast

off at 10:00.



We'll be the scourge of the seven seas, but keep your mate in check.



Y'argh.

This month:

It's time for a change. We have grown immensely from 8 people 2.5
years ago, to about 1,350 last month. While that is exciting, and most
ridazz have a great time, there are incidents on every ride that have
some people very concerned: accidents, fights, police involvement.
This is unnecessary. We can debate all day about whether we should the
streets or share them, but Ridazz has one mission: to have fun on
bikes. Getting arrested or hurt? No, not fun. Sure, there are agro
drivers and asshole cops. But it is possible to do what we do without
conflict.


What we ask of you: MAKE THIS RIDE YOURS.
Participate in keeping the ride safe. We have to police ourselves.
Remind others to keep to the right and let at least one lane of
traffic get by. Don't encourage driver hostility. Wear white or tie
something white to your bike to show solidarity for keeping this ride
going safely.
See someone with a flat? Stop and help them. Call for others to stop
with you. That's what "NO RIDA LEFT BEHIND" means. Stay together and
try to catch up to the group. Future rides should have more planned
stops that allow for that.
Go slow in front and stop at lights to let the ride catch up. If you
like going fast, then stop to cork and speed up to the front again.
Cork at the intersections. The safest way for us to get through the
lights is to have several people on each side holding traffic. When
the ride thins out, stop corking. Stragglers should stick together and
stop at lights for their own safety.
Plan a ride. Want to lead a Midnight Ridazz? Just email us. Or start
your own Midnight Ridazz in another part of town! We'll post it on the
web site. Those who were around 2 years ago know that a smaller ride
is even more fun.




Posted by Muff