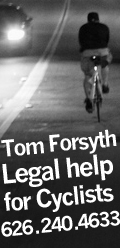 Ridazz Roulette!





The One Night Kickstand - THE SHOOT

05.4.08




This is the reel deal! In case you didn't know, a bunch of Ridazz and non-Ridazz filmmakers have been working on a short film about bicycles in love. One of the sequences in the film requires one of the bicycles (a vintage townie) to chase down a large pack of cyclists. It's gonna be amazing.



THIS IS A FILM SHOOT.



The ride will take us through the industrial neighborhoods of downtown Los Angeles (starting in Boyle Heights at the Sears building) and ends in Downtown itself.



Start Time 8pm

End Time 12am-ish


MEET AT SOTO and OLYMPIC, the SEARS LOWER PARKING LOT!


I was going to try to get food out for all the Ridazz who came, but the budget is wearing thin... The good news is the route's been effectively cut in half - only 6 miles and 8 locations for the whole night! RUN 'n GUN!



Please send all your questions to evolutionofthedog at gmail dot com.



View Larger Map


MR Forum thread HERE.



In the meantime, check out RedRidingHood's Flickr stream from the first shoot we did!



Also, here's a weird clip from the film itself!









Posted by Cutter