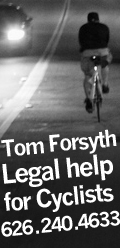 Ridazz Roulette!





Midnight Ridazz THE GLO-RIDE

04.11.08






Ride In Peace, Glo Rider




A ride and celebration
in the life and memoy of:




MARK AMOS NEALEY
10/11/55 - 3/15/08





DATE OF RIDE - Friday, April 11th

ARRIVE TIME: 9-9:30pm

START TIME: 10:00pm


STARTING LOCATION:
Pioneer Chicken Parking Lot
Corner of Echo Park Avenue & Sunset Blvd
See Map

Closest Metro Station - Vermont/Sunset





Mark A. Nealy, a.k.a. Glo Rider, a strong member of our community and friend, passed away from cancer on March 15th, 2008.

He was known by many for his friendly nature, his amazing photography, his videos, and how he always rode his low recumbent tricycle that seemed to just hover over the ground with these bright glowing neon lights underneath.

In honor of him, we will ride together with glow sticks, led lights, E.L. Wire, x-mas lights, or whatever you can think of to make us "Glo" like he did for us. Even if you didn't know him, he was a supportive member of our community and he was a RIDA. - "No Ridazz left behind!"


---------------

Words from his family:

"Midnight Ridazz were truly a beloved community for him, and I think the glo ride is the kind of thing he would have heartily approved of! As you know, he was also an avid photographer, so maybe taking and posting a collection of those light-writing photos he liked would be a good tribute. His full name was Mark Amos Nealey (initials=MAN). He loved to ride and to drum, to shine his light and to make films." - His wife, C.

"I wanted to say how great it is that the Ridazz are dedicating this ride to Mark he really loved being part of your club/movement ." -His brother, Jason Nealey


--------------

So bring out your family and friends, and deck your bikes!
This is a party on bikes. Let's all have F.U.N.!












Posted by Joe Borfo