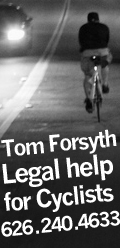 Ridazz Roulette!





SCUMBAG WEEKEND Stough Canyon mtb

10.14.18




Climb to SCUMBAG Pointe

October 14th

7 am gather 7:45 roll out.

Our yearly pilgrimage to the SCUMBAG Pointe, where it all began many years ago. About a 4 mile fire road climb.

Meet a Stough Canyon Trailhead in Burbank.

Bring food drink and a jacket or something as we are going to hang out at the top for...some time.



All are rain or shine, a true SCUMBAG is not afraid to get muddy!




Posted by rev106