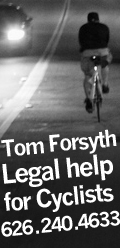 Ridazz Roulette!





Wolfpack Hustle: The Forsyth Cup

05.5.18


Arooooo The Forsyth Cup is back thanks to Bicycle Attorney: The Law Offices of Thomas F. Forsyth. Please give Tom a follow and dont hesitate to give him a call if you need help regarding a collision. Tom is a cyclist himself and specifically knows bike law. He and his team are here to help and we are proud to have Tom\\\'s support for our races and events going on 6 years now, deeply thankful.

This year we are bringing back the track! WolfpackTrack format that is. We had so much fun in September that we are producing a full series this year based on the original Forsyth Cup format. We are planning some more fun for the event this year including a certain hugely knowledgeable and popular roving on scene reporter and the return of the Forsyth Grill for the fans and the athletes! See you in May.




Posted by Roadblock