nycfixie
Member since: 12.14.06
Topics: 0
Replies: 0
Website:
http://www.myspace.com/laratrace

view gallery contributions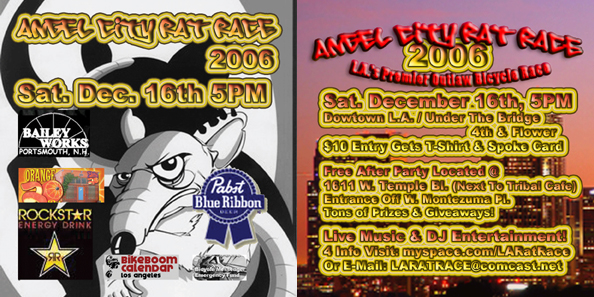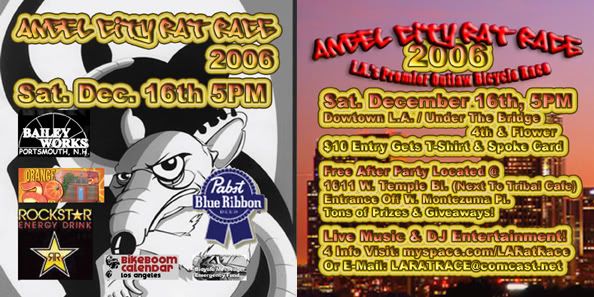 As you know the Angel City Rat Race is less than 10 days away!!
Just a recap, we'll be meeting at 4th & Flower under the bridge on Saturday December 16th at 5P.m. The race begins at 6:30pm sharp. Be sure to have your front and rear lights, Safety First People!! You can get some at:
Helmets are encouraged but never mandatory.
After Party Location will be 1611 W. Temple Blvd. in Echo Park, next door to tribal cafe. For some reason mapquest puts out shitty directions under that address. Click this photo for some RIDING directions: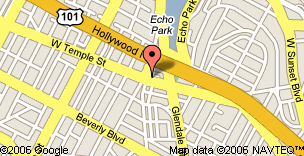 The entrance will be at the rear of location on W. Montezuma PL. A little hint. This just might be the final stop of the race.....wink...wink...
UPDATE: The Entry Fee will offically be $10 if you would like an event t-shirt*, otherwise without a shirt the entrance fee is only $5. We realize that the X-Mass season has left many of us broke and who says a shirt should be mandatory. Afterparty will start bumpin probably around 7-9pm.
For offical color flyers visit one of these locations:
Orange 20
Beverly Hills Bike Shop
and wherever these mofo's let us put em!
So feel free to leave us a comment, cause we'de appreciate the support. Many have helped, and few will be thanked. SO BE SURE TO SHOW UP IF YOU LOVE ROLEin ON 2-WHEELS!
For Future events in Los Angeles just like these, visit the
*T-Shirts will now be on time!!